Photo Gallery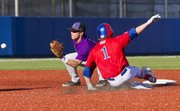 KU baseball vs. Kansas State
Related document

KU-Kansas State baseball box score ( .PDF )
Kansas University's baseball team needed two victories Sunday to keep its season alive and got none.
Sunday at Hoglund Ballpark, KU fell, 13-9 in the completion of Saturday's weather-delayed game, and, 10-6, in the nightcap that meant nothing in terms of conference standings but everything in the hearts and minds of the KU players.
Casey Lytle's slow dribbler down the first-base line that ended Game 2 certainly was an appropriate capper to KU's day on the diamond. But it was hardly the way to close the day for Lytle and seven other KU seniors, who played the final game of their college careers just hours after graduating.
"It was a big, big, emotional day," Lytle said. "Going through the labors of being a D-I athlete, you're used to the emotional ups and downs. It's unfortunate that it didn't turn out the way we wanted it to, but I liked how we came out in the second game and played hard. We wanted to go out on a good note, and throughout our four years I think we left a good impression."
They actually did much more than that, particularly Lytle and fellow-outfielder Jimmy Waters.
"Jimmy Waters is one of the two best competitors I've ever coached in my entire career," Price said. "He's the heart and soul of everything you ask our team to do. And Casey Lytle epitomizes Kansas baseball. He comes here on no money, and he's a three-year starter, and he graduates in four years. He's a great, great human being."
The day started with such promise. At 10:30 a.m., seven KU baseball players went through graduation ceremonies and enjoyed the morning with friends and family.
After fulfilling their academic obligations, Lytle, Waters, Brandon Macias, Scott Heitshusen, Nolan Mansfield, Wally Marciel, Carlo Ramirez and T.J. Walz made their way to their home field trailing, 5-3, in the seventh inning of a game they had to win.
The Jayhawks (26-30 overall, 9-18 Big 12) got out of the seventh without giving up a run, but were held scoreless in their half.
K-State (34-21, 12-14) scored six in the eighth and two more in the ninth to blow the game open and squash KU's hopes of qualifying for next week's Big 12 tournament in Oklahoma City.
"We were there, we were there, we were there, but every time we had an opportunity, we got into an out, and they made more plays than we did," Lytle said.
K-State finished the first game with 13 runs on 13 hits, compared with nine runs on 11 hits for KU.

In the finale, junior Zac Elgie homered twice and drove in three runs, and Lytle, Ka'iana Eldredge, Kevin Kuntz and Jason Brunansky each added RBIs, but it wasn't enough, as K-State pounded out 10 runs on 15 hits to sweep the series in front of the fifth-largest crowd (2,041) ever to watch a baseball game at KU's home park.
Despite coming up short, Elgie was proud of the way his teammates showed up in a game they could've quit on before it began.
"Coach Price really preached to play all 56 games," Elgie said. "And I think that's what we did. We went out there and played our butts off in our last game, Game 56. It would've been really, really nice to get those seniors a win, but it didn't work out for us."
Sunday night, as the Jayhawks left the field for the final time, some were saddled with the tough task of balancing the joys of graduation with the heartbreak of the end of the season, and others were left to reflect on what went wrong. A little more than a month ago, qualifying for the postseason was not much of a question for KU.
"We were 9-9, in fourth place, and I think we were the story of the Big 12 Conference at that time," Price said. "That team had overachieved as much as any team I've ever coached. If you would've told me after we were 9-9 that we wouldn't make the Big 12 tournament, I wouldn't have believed you.
"It's an emotional day. It's tough to take."
Added Elgie, in one final nod to the senior class: "A lot of those guys were the guys who got us to the regional in Chapel Hill (N.C.) in '09 and back into the Big 12 tournament last year. They put so much into the program. To go out getting swept in our final three series is disappointing."
Copyright 2018 The Lawrence Journal-World. All rights reserved. This material may not be published, broadcast, rewritten or redistributed. We strive to uphold our values for every story published.