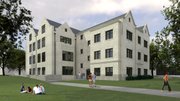 Baker University plans to start construction this fall on an addition to its science building, a project designed to add labs, offices, a student lounge and a classroom.
The project, at Mulvane Science Hall on the main campus in Baldwin City, will be expected to cost $9.3 million, of which donors already have pledged and contributed gifts totaling $4.5 million. The school already has spent $1 million making basic upgrades to the main building, which opened in 1926.
The school will be looking to raise another $5.8 million during the next two years to see the project through to completion, starting with the three-story addition and closing out with final renovations — creating more space for additional labs — in the fall of 2012.
In the end, the 22,000-square-foot building will have added another 9,000 square feet and brought a campus cornerstone up to date with the demands of today's education in biology, chemistry, math, physics and information technology.
"It's to bring our physical space up to the quality of our teaching," said Lyn Lakin, Baker's vice president for advancement. "We're already doing great things. … Imagine what will happen when we have up-to-date spaces."
Mulvane had been renovated in the 1970s, to include drop ceilings and an elevator, but has never been overhauled, Lakin said. Among other upgrades, the old building will get new windows and an overall facelift.
Students also will enjoy spaces where they can collaborate on their studies and otherwise "do things students do these days," Lakin said.
The project architect is PGAV Architects, a firm in Westwood that also designed the Kansas Bioscience Authority's new Kansas Bioscience Park Venture Accelerator, in Olathe, and previously designed the Stowers Institute for Medical Research, in Kansas City, Mo.
General contractor is JE Dunn Construction Co., of Kansas City, Mo.
Copyright 2018 The Lawrence Journal-World. All rights reserved. This material may not be published, broadcast, rewritten or redistributed. We strive to uphold our values for every story published.