Photo Gallery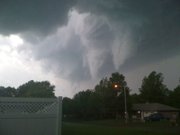 Severe weather, May 21, 2011
Lawrence narrowly avoided being on the receiving end of several severe storms Saturday night.
Systems producing funnel clouds and hail up to the size of tennis balls rolled through northern and southern parts of Douglas County as well as several neighboring counties.
The first round of storms put county residents on alert shortly after 6 p.m. when emergency outdoor sirens sounded. The National Weather Service in Topeka tracked a storm producing funnel clouds through the southern part of the capital city, even reporting a brief touchdown near 23rd Street and Fairlawn Road. Large hail caused damage citywide.
That storm system moved northeast, clipping the extreme northwestern part of Douglas County. Strong winds and large damaging hail were reported with the storm. Several funnel clouds in Shawnee County were also spotted by Douglas County Sheriff's deputies, and there were unconfirmed reports of a touchdown near Lecompton. Minor damage from a brief tornado touchdown was reported near Perry Lake.
A second wave of severe weather hit the area about 10 p.m. A storm system known to have produced tornadoes as it moved east from Emporia moved through the southern part of Douglas County, and a tornado touched down on U.S. Highway 59 near the Franklin County line just after 10:30 p.m. That tornado was reportedly heading east toward Baldwin City, and emergency sirens sounded in the county once again. Spotters and emergency personnel found debris on the ground in the area but no major damage was reported.
Lawrence was largely untouched during the weather outbreak. Sporadic rain along with lightning and menacing clouds highlighted the city's exposure.
Reading, Kan.
Heavy damage in Reading
In Reading, about 67 miles southwest of Lawrence, at least 20 homes were destroyed and one person was killed.
A man was pronounced dead shortly after being taken to Newman Regional Hospital in Emporia, about 20 miles from where the tornado hit Saturday night, hospital supervisor Deb Gould said. She said two other people were brought in with injuries but she had no further details.
Five people were injured in all, along with the person killed, said Sharon Watson, the spokeswoman for the Kansas Division of Emergency Management. She did not have details on their injuries or know whether all were hospitalized.
About 200 homes were damaged in and around the town of about 250 people, Watson said. The local post office and volunteer fire department were damaged, and all roads in and out of the town have been closed off.
Gov. Sam Brownback declared an emergency for 16 counties, including the one surrounding Reading, Watson said. The declaration allows state resources to be used in recovery and cleanup and paves the way for federal assistance if needed. Watson said a state team had been sent to Reading to help local officials with recovery work.
Copyright 2017 The Lawrence Journal-World. All rights reserved. This material may not be published, broadcast, rewritten or redistributed. We strive to uphold our values for every story published.