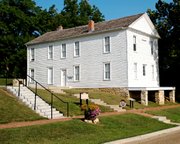 Photo Gallery
State officials visit Constitution Hall in Lecompton
Lecompton — In a celebration of Kansas' past and future, state leaders gathered Friday to commemorate where many say the Civil War started -- Constitution Hall.
"The fight starts here," Gov. Sam Brownback said of the upstairs room where the Kansas territorial legislature approved a pro-slavery constitution, which then started a historic chain of events.
"You can almost feel the history and feel the bloodshed," Brownback said to the more than 50 people who gathered at what Brownback called a "solemn" event.
Passage of the Lecompton Constitution ignited blowback from anti-slavery forces, led to a brawl in the U.S. House, split the national Democratic Party and allowed Abraham Lincoln to win the 1860 presidential election with only 39 percent of the vote.
Paul Bahnmaier, president of the Lecompton Historical Society, coordinated Friday's event to help the state recognize Lecompton's historical role in both Kansas and U.S. history.
"Lincoln would not have been elected if not for the Lecompton Constitution," Bahnmaier said.
Brownback said the Lecompton Constitution galvanized average Kansans to reject "an institution that was an abomination. We started the fight to end slavery."
Kansas entered the union in 1861 as a free state, less than three months before the Civil War started. Both events are being recognized on the 150th anniversary.
Brownback spoke about battles during the "Bleeding Kansas" period and mentioned that his mother grew up on property in Osawatomie that abolitionist John Brown had stayed.
Bahnmaier said Lecompton, located in Douglas County between Lawrence and Topeka, is as historically significant as any major Civil War site and hoped the event Friday would generate more interest and tourism.
"We are second to no one, if we would just believe it," he said.
Many people at the event dressed in period costume.
Opal Goodrick, 87, and a lifelong Lecompton resident, said it was "wonderful" that Brownback and legislative leaders and other officials came to Constitution Hall.
"It's nice to see that a lot of people appreciate Lecompton," she said. "It's very important that we have visitors here."
In addition to Brownback, most legislative leaders attended the event, including Senate President Steve Morris, R-Hugoton, and House Speaker Mike O'Neal, R-Hutchinson. State Rep. Tom Sloan, R-Lawrence, whose district includes Lecompton, worked on setting up the commemoration.
Copyright 2018 The Lawrence Journal-World. All rights reserved. This material may not be published, broadcast, rewritten or redistributed. We strive to uphold our values for every story published.