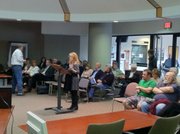 It was like Massachusetts Street on a sunny Saturday — there was a little bit of everything to be had.
City Commissioners Hugh Carter and Bob Schumm on Thursday hosted a listening session about downtown issues. Among some of the topics brought up:
• A retail incubator. Several merchants said they wanted more information about how the city could create a plan to help new, small-scale retailers get started downtown. Some even suggested encouraging "flash stores" that would allow new businesses to have short four- or five-month leases to allow them to test new business ideas. Schumm asked the Downtown Lawrence Inc. association to provide the city with a list of cities that have operated successful incubators.
• Pedestrian malls. Commissioners heard from people both in support and in opposition to closing a portion of Massachusetts Street for a pedestrian mall. Several merchants said they have concerns that anytime Massachusetts Street is closed to traffic that business suffers.
But commissioners also heard an idea to consider closing a side street — Eighth and 10th streets were mentioned — as an alternative to a Massachusetts mall.
"It would give us something we don't have, which is a central square," said Jane Pennington, a downtown arts promoter. "It could become a place for events. It could become a venue for a number of things."
• Downtown appearance. Several merchants expressed concern that graffiti and transients were creating a poor perception of downtown, especially to tourists. Walt Houk, a downtown property owner and operator of Travellers Inc., said downtown has great potential to be a tour bus stop, but he believes some of the downtown appearance issues would cause those buses to bypass the city. Other retailers said the city needs to do more to crack down on people asking for money on city streets, perhaps requiring a city license to conduct such solicitation.
• Some retailers urged the city — and the general public — to lobby federal legislators to pass legislation that would require all Internet retailers to collect sales tax.
• There was broad support from the crowd of about 50 for the city to again ask the university not to move athletic events to Kansas City.
"That costs us millions of dollars a year," said Peter Zacharias, a downtown jewelry shop owner.
"Hear, hear," said Schumm, who owns a downtown restaurant and bar.
Schumm said he plans to present a summary of the items discussed to the full City Commission.
"I think there are some issues we'll want to have more discussion on," Schumm said. "There were some good ideas presented."
Copyright 2018 The Lawrence Journal-World. All rights reserved. This material may not be published, broadcast, rewritten or redistributed. We strive to uphold our values for every story published.