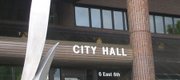 Subscribe to the email edition of Town Talk and we'll deliver you the latest city news and notes every weekday at noon.
News and notes from around town:
• Maybe you have seen The Food Network show "Cupcake Wars." If you haven't, you soon may be able to get a taste of it in Downtown Lawrence. I've learned that one of the contestants on that show is set to open a cupcake shop in downtown. Topeka-based Billy Vanilly Cupcakes — formerly known as Daddy Cakes — has signed a lease to open at 914 Mass. in the former Campus Cloth store. The store is owned by Allyson Fiander, a pastry chef who has studied in France and at the San Francisco Baking Institute. She's also worked at Stars Restaurant in San Francisco, Club Med in Florida and The American Restaurant in Kansas City. But her claim to fame probably is her appearance on The Food Network's Cupcake Wars series. (She was on the show that featured Sea World, in case you are a fan.) She also is getting some love from another Food Network Star. The magazine Every Day with Rachael Ray recognized her Topeka store as one of the top 5 cupcake destinations in the country.
Fiander told me she hopes to have the store open by Aug. 1. The current store in Topeka does a lot of catering, and she said that will be available in Lawrence too. But the store's entry into Lawrence also is about tapping into the college market. That has been a hot demographic for cupcake shops in other cities, and Billy Vanilly will go after it hard in Lawrence. Fiander said the store plans to be open from 10 a.m. to midnight on weekdays and until 1 a.m. on Saturdays. I jokingly asked her whether she had any cupcakes that went well with beer, and she said it was definitely a well-researched subject.
And she wasn't joking. The store won't have a liquor license, but it has several drink inspired cupcakes. Currently, Fiander has a Jack and Coke cupcake, a margarita cupcake, a Cosmopolitan cupcake, and creations called "Buttercream Shots." It is the store's buttercream icing served up like a shot of tequila. I'm not sure which one would be more dangerous.
Allison Vance Moore of the Lawrence office of Colliers International, was a broker on the deal.
Her shop will mark the second cupcake-based business to open downtown in the last few months. As we previously reported, the Cupcake Construction Company has opened at 727 Mass. in the former home of the Pink Box Bakery.
If cupcakes are the sign of an economic recovery, hang on — and grab a napkin.
• Last week, downtown merchants got together to talk about whether store hours in downtown ought to be longer. This week City Hall leaders want anybody and everybody to get together and talk about all things related to downtown. City Commissioners Hugh Carter and Bob Schumm are hosting a downtown listening session at 5:30 p.m. on Thursday at City Hall. The group is open not only to merchants, but also downtown property owners, office tenants, residents and just the public in general. Schumm originally proposed the meeting as a way to discuss what the city could do to help lower the downtown vacancy rate. But if the recently released city survey is any indication, there are several other downtown topics that may be on the mind of residents. Here's a look at what the survey had to say about downtown:
Availability of parking downtown: No surprise here, this category received the lowest ranking among all downtown questions. A total of 42 percent of respondents were satisfied with the availability of parking. That's down 43 percent who were satisfied in 2007, when the survey was last taken. It will be interesting to see whether these survey results embolden commissioners to add another level of parking to the garage that will be built as part of the library expansion. It seems the public is mixed on that idea, which would require the city to come up with money over and above the $18 million approved by voters.
Downtown after dark: People feel a little safer in downtown during the nighttime hours, but it looks like there is still a lot of work to do in that category. A total of 48 percent said they were satisfied with downtown safety after dark. That's up from 45 percent in 2007. Interestingly, the perception of downtown safety during the day fell slightly during the time period. It now stands 87 percent, down from 90 percent in 2007. But remember, the margin of error for this survey is plus or minus 2.7 percent, so those changes may not mean much statistically.
Retail vs. entertainment: The public is growing less satisfied with the mix of retail stores vs. bars and other entertainment businesses downtown. Only 53 percent were satisfied this year. That's down from 60 percent in 2007. That 7 point drop was the second largest drop in satisfaction of any city issue asked on this year's survey, which numbers seven pages and more than 100 questions.
Hours downtown businesses are open: Not to be outdone, residents were even more dissatisfied with the hours that downtown businesses are open. That category had the largest single drop in satisfaction of any question — not just downtown questions — asked on the survey. A total of 57 percent said they are satisfied with the hours of downtown businesses. That's down from 65 percent in 2007.
Ease of getting to downtown. Not surprisingly, people feel like it is about as easy as ever to get to downtown. A total of 69 percent said they were satisfied with the ease of getting to downtown. That's essentially unchanged from the 70 percent in 2007.
Beautification of downtown: Improving the appearance of downtown is one of the community's great success stories of the last several years, according to the survey. During the time period, the city's Parks and Recreation Department has undertaken a more aggressive flower planting program, and also has hired workers from Cottonwood Inc. to help with litter control and other issues. According to the survey, 83 percent of people are now satisfied with the "beautification" of downtown. That's up from 68 percent in 2007. That 15 point increase was the largest increase for any single category in the entire survey.
• City commissioners at Tuesday afternoon's study session began what probably will be an important discussion about the city's role in fighting homelessness. First, commissioners said they wanted an update on how the search for a new shelter location was proceeding. But Commissioner Hugh Carter said commissioners need to start spending some time thinking about what happens after the shelter presumably moves out of downtown. Carter said he's convinced there will be quite a few homeless who won't make the move out of downtown, and won't be served by a new shelter, no matter where it is. Carter is pointing out that the new shelter theoretically is going to operate quite a bit differently than the current shelter at 10th and Kentucky streets. A big difference will be that there will be no daytime drop-in center at the new shelter. If you are not part of a jobs program and meeting certain other requirements, you won't be allowed to be inside the building. Carter noted with LINK remaining downtown — and probably The Salvation Army feeding program as well — it is likely a large number of the more chronically homeless will remain downtown.
"The problems downtown won't change," Carter said. "They are chronically homeless, or mentally ill or have an addiction problem. I don't think a lot of those people are going to be in a jobs program at the new shelter. I think we need to talk to people about what is the game plan."
Carter suggested posing that question to the leaders of the Community Shelter. City Commissioner Bob Schumm said that would be fine, but ultimately he said the city and the county need to get together and come up with a game plan.
"It is not going to go away, and it is not getting any smaller," Schumm said. "We own the problem. We really do."
Carter and Schumm are the two newest faces on the commission. It will be interesting to see if the other three commissioners — who already have spent a lot of time talking about the homeless issue during their tenure — are interested in expanding the issue.
Copyright 2018 The Lawrence Journal-World. All rights reserved. This material may not be published, broadcast, rewritten or redistributed. We strive to uphold our values for every story published.