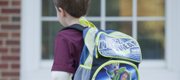 Subscribe to the email edition of First Bell and we'll deliver you the latest local education news and notes every weekday at noon.
A few notes and items regarding education in the area:
Related document

Measles information from Lawrence-Douglas County Health Department ( .PDF )
Officials with the Lawrence-Douglas County Health Department confirmed a case of measles in a student Tuesday morning at Quail Run School, the first time the department has worked a case in the county since the early 1990s.
The student is recovering, said Lisa Horn, a spokeswoman for the health department.
So, how does a case get into a school when students are required to be immunized against the virus before they can attend classes?
The requirement has two exemptions, Horn said:
• A student does not receive immunizations for religious reasons.
• A student does not receive the immunization because it would threaten the life of the student, a threat certified by a physician.
Quail Run has four students who are not immunized against measles, according to a note emailed to parents of Quail Run students.
Horn said that measles cases had been reported in neighboring Johnson County, and also that California had seen an uptick in cases.
In 2000, the Centers for Disease Control determined ongoing transmission of measles was eliminated in the United States. That means that anytime measles pops up in this country, it does so because someone who hadn't been immunized had traveled to another country and picked it up, or that someone from another country was infected and brought it here.
•••
Welcoming ninth-graders next year will mean hiring an additional administrator at Lawrence High School and restoring hours for another at Free State High School.
Members of the Lawrence school board plan to gather for a special meeting at 5:30 p.m. Thursday at district headquarters, 110 McDonald Drive, to approve several personnel moves, including two related to reconfiguration of schools:
• Felton Avery, a full-time assistant principal at Lawrence High, is resigning to become a half-time assistant principal.
• Mike Hill, a half-time assistant principal at Free State, will move back to full-time status. Hill — who will remain the school's athletics director and baseball coach — had been full-time until this school year, when budget cuts reduced his position to half-time; the other half of Hill's time this year has been spent as a teacher.
Each school is gaining administrative resources to help handle the addition of about 380 ninth-graders at each campus.
Board members also will be expected to accept the resignation of Frank Harwood, the district's chief operations officer, who is leaving at the end of June to become superintendent of the Bellevue school district at the edge of Omaha, Neb.; and the resignations of teachers whose moved have not yet been accepted by the board.
•••
Tuesday marked 57th anniversary of the U.S. Supreme Court's landmark ruling in Brown v. Board of Education, outlawing "separate but equal" public schools for people of different races. The ruling ended legal segregation in public schools.
The "board" in the case was, of course, the Topeka school board. And the school — Monroe Elementary School — now serves as the home for the Brown v. Board of Education National Historic Site, at 1515 S.E. Monroe St.
To learn more about the site, the history and the lasting effects of the ruling, you may visit the National Park Service's website for the site.
— The First Bell mailbox is always open. Please feel free to send any feedback or ideas to me at mfagan@ljworld.com.
Copyright 2018 The Lawrence Journal-World. All rights reserved. This material may not be published, broadcast, rewritten or redistributed. We strive to uphold our values for every story published.