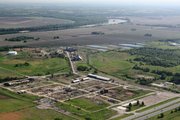 The tearing down continues at the former Farmland Industries fertilizer site, but now City Hall leaders are starting to spend more time considering how to build up the 467-acre property on the eastern edge of Lawrence.
"We have been pleased with how it is going out there," said Matt Bond, a city engineer who is overseeing clean-up of the site. "We haven't run into any issues that we haven't expected yet."
Bond said Lawrence-based R.D. Johnson Excavating is on schedule to complete the cleanup of the property by the end of the summer, which will clear the way for the city to begin converting the site into a new industrial and business park.
City commissioners at their Tuesday evening meeting unanimously agreed to apply for a federal grant that could make the future business park a unique renewable energy attraction. Commissioners are hoping to use the grant to receive $50,000 in consulting services to determine whether portions of the Farmland site can be used for renewable energy projects such as wind, solar and geothermal energy production.
"I think it will be surprising to a lot of people how feasible alternative energy is in our area," said Mayor Aron Cromwell, who sells and designs solar systems in his private business. "There are some definite possibilities out there."
City officials said they aren't necessarily expecting the Farmland property to become the site of a major renewable energy center. Instead, they think the site may have potential for smaller scale projects that could be used to provide power to businesses that locate in the business park.
"It could be a great selling point to businesses," Bond said.
He said a layman's analysis suggest wind energy could be generated on the large hill on the site, and that a series of ponds along 15th Street could house solar panels once they are capped.
The EPA program would provide the city with technical experts to evaluate the site and explain what steps would need to be taken to add renewable energy projects to the property.
Commissioners also are expected to soon begin discussing potential projects to extend infrastructure to the Farmland site. That could include an extension of 19th Street, an extension of Franklin Road and a new traffic signal to provide better access to the property, and perhaps a new road to connect the Farmland property with the adjacent East Hills Business Park.
Copyright 2018 The Lawrence Journal-World. All rights reserved. This material may not be published, broadcast, rewritten or redistributed. We strive to uphold our values for every story published.