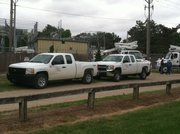 On the street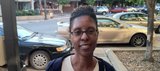 Read.
No cinnamon rolls. No croissants. No coffee.
And Chuck Magerl, proprietor of WheatFields Bakery, considers himself lucky that the power went off when it did — warming his refrigerators, cooling his ovens and otherwise fouling batches upon batches of baked goods this past Sunday morning.
Disaster averted, at least for now.
"We're grateful that it happened this Sunday and hopeful that it won't happen next Sunday," Magerl said, of the blackout that lasted from 6 a.m. to about 8:15 a.m. "The idea of thousands of people in here for (Kansas University) graduation in the morning, and trying to figure out where to go, and what to do, and where to eat ... "
A chuckle finished the thought, but the prospect isn't funny. The upcoming KU Commencement is big business for retailers, for hoteliers, for restaurateurs and everyone else along and astride Massachusetts Street, not to mention seemingly everywhere else in town.
And now that the central business district has endured four power outages in a little more than a year, concerns are mounting that plugging in and turning on might not always produce the desired result.
Officials at Westar Energy say Sunday's outage occurred because a splice failed in underground lines that run through the same manhole. The failure produced a "violent discharge of energy," enough to damage other lines in the manhole and knock out power to a wider area: almost 5,000 customers at the outage's peak, many in the downtown area, said Leonard Allen, a Westar spokesman.
The damaged lines are associated with the Westar substation at Sixth and Tennessee streets, the same place where similar lines led to a similar problem back on Dec. 6. That outage was said to have knocked off about 8,000 customers — including the Douglas County Courthouse, leading a judge to declare a mistrial in a DUI case.
Both outages appear to have been caused by failures in aging power lines, Allen said.
"They both had something to do with line that was laid in the 1970s," Allen said. "They are looking at getting with our reliability and substation people, and looking at the possibility of replacing more sections of that line to prevent further outages. …
"It's probably just that the line wore out. … They will look for lines that are similar and look at replacing those."
While no timeline for such upgrades has been set, the fact that at least two outages can be traced to a similar cause has appeared to flip the switch on consideration of repairs and replacements.
"They'll have to look at it and see what needs to be done," Allen said. "Obviously, it's come to the forefront of their attention."
Magerl's keeping his fingers crossed that the old lines — installed at least a decade before he opened Free State Brewery in 1989 at 636 Mass., and well before opening WheatFields later at Ninth and Vermont streets — will hold up for another week and beyond.
"It would certainly benefit a lot of businesses and, beyond that, individuals … to minimize those disruptions," Magerl said.
Copyright 2018 The Lawrence Journal-World. All rights reserved. This material may not be published, broadcast, rewritten or redistributed. We strive to uphold our values for every story published.