Iowa's landscape and buildings deeply impressed feng shui and quantum healing energy practitioner Ronda Reinke. They etched the beginnings of an artistic, spiritual and healing search that led her to California, China and eventually Lawrence.
"As a young child driving from our farm on the milk-cart with my grandfather I remember being enthralled by the rolling hills and buildings," Reinke says.
"It sparked my interest in anything connected with houses or structures, from interior design to sculpting them in juxtaposition on the landscape to painting them in miniature representations."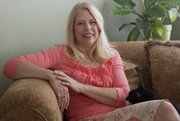 The farmland grass fed Reinke's early creativity.
"There was so much grass for me to mow," she recalls. "I used the high piles of clippings to plan and design my first buildings. My grass-clipping plans were laid out across the fields."
Her first award-winning piece, "Sculptures of Iowa," were representations of those combined early memories cast in bronze and iron.
"Art was a way for me to see life's bigger picture and reflect on the dimensions above the landscape and below ground," she says.
After completing a Bachelor of Arts in interior design and a master's degree in art at the University of Iowa, she showed and sold her artwork in local galleries, married in 1981, then moved to Carmel Valley, Calif., when pregnant with her second daughter. Her ongoing involvement in art, interior design, the beauty of Carmel's landscape and Cornstock buildings deepened her inner spiritual search for connections to things unseen.
After a divorce and her mother's death in 1996, Reinke began exploring classical feng shui. She studied with Master Larry Sang at the American Feng Shui Institute in Monterey Park, Calif., and in China. She received the Institute's advanced graduate diploma in 1998.
"The classical tradition uses a compass and the five elements and is based on authentic rhymes handed down over thousands of years from master to master," she says.
Her study in China gave her a deeper appreciation of the Chinese culture and ancient practices. She's also aware of some limitations.
"Five thousand years ago they didn't have the pollution we have today," Reinke says.
"I can set up a house to create more prosperity, better relationships and health, but damage caused by poor diet, radiation and other modern-day stressors can't always be corrected with feng shui alone."
She discovered quantum biofeedback and a quantum healing pulse machine.
"The machine helps heal and re-train the body to deal with modern-day environmental stressors," she says. "It was invented by a doctor who worked for NASA and is now FDA approved."
She was so impressed with the machine's healing results she certified as a quantum feedback specialist in Boulder, Colo., and purchased a quantum healing machine for personal and clients' healing.
Reinke moved to Lawrence in 2009. She teaches introductory classical feng shui at Johnson Country Community College and the University of Missouri-Kansas City's Communiversity. She has a private quantum healing practice, teaches local classes on personal energy transformation and does feng shui consultations.
"I love being back in the Midwest," she says. "Lawrence is such a wonderful, open, accepting community."
Copyright 2018 The Lawrence Journal-World. All rights reserved. This material may not be published, broadcast, rewritten or redistributed. We strive to uphold our values for every story published.