Photo Gallery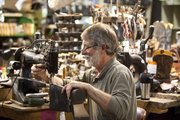 Lawrence leather shop maintains personal atmosphere
Isadora lies on a quilt-covered chair, watching her owner, Bruce Barlow. In the other room, Barlow's son-in-law cuts pieces of leather to shape, gluing them into place. Saddles, jackets, shoes, pianos, paint and stringed instruments line the rooms. Later, Barlow's brother will come to work.
For Barlow, 56, his leather business in North Lawrence is all about family. He started BKB Leather, 811 Elm St., after he injured himself at his construction job. He started playing with some leather scraps in his house and made a couple of tool belts for his fellow workers. That was in 1986.
Now, his shop is one of the few places left in Lawrence to see a cobbler for shoes, to fix a favorite purse or get custom saddle work done. In his eclectic shop, old carries as much weight as new.
"We just fix things and make things. It's all pretty exciting," Barlow said.
Originally started in Barlow's laundry room, the business grew and eventually moved to a location across from Johnny's Tavern, 401 N. Second St. But Barlow decided to bring it home eight years ago and built his shop next door to his house.
He has one full-time employee, along with his son-in-law and brother working for him. Isadora, a dog named for a turn-of-the-century dancer, wanders around the shop along with cats Blixen and Agnes and a bird he's had for 18 years.
"We're going to stay here, keep it small and intimate," Barlow said. "Most customers like that."
Barlow's shop specializes in what he calls "old school thinking," repairing the old and tired. The cobblers repair shoes ranging from zebra-striped spike heels to years-old loafers. In fact, one man has Barlow repair the same pair of shoes every year.
"It's just word of mouth and we try to do good work," he said.
And in a down economy, some people would rather fix their old favorites than buy replacements. It's all about saving old things, something Barlow's good at — the wood stove in the shop is decades old, and he's never thrown away a sole he's taken off a shoe in 20 years. Many adorn a tree outside the shop.
"A lot of our job here is teaching people how to take care of their stuff," he said.
Casey Smith, 32, married Barlow's daughter, and then became one of the shop's cobblers. He uses glue, blades and some creativity to repair shoes, something that has become an art form for him.
"Sometimes you become the artist and make it look how you want it to look," Smith said.
Barlow often works on more specialized projects, such a leather-rimmed mirror or a custom belt similar to the 30-year-old one he wears.
He uses high-quality leathers, usually from Canada and occasionally from France or England. Leather prices have gone up just like everything else. Barlow said he used to be able to buy leather for 90 cents per foot, but now it's $7 to $10 per foot. The cost is worth it to him, though, and the prices he charges go up proportionally.
"It doesn't pay to buy anything to compromise the quality," he said.
Barlow likes to take on new projects, and remembers the one that perplexed him most: a removable skin for a basketball.
"He doesn't know how to say he doesn't know how to do something," said his wife, Kris, who operates a quilting business in their home.
The variety of work Barlow's shop does keeps them busy; he says it's actually five shops in one. And having his family around makes it a comfortable environment, one he hopes will last for years.
"There's no way I could do this by myself," he said.
Copyright 2018 The Lawrence Journal-World. All rights reserved. This material may not be published, broadcast, rewritten or redistributed. We strive to uphold our values for every story published.