It is only mid-May, and I'm already craving that gorgeous, new summer 'do. You know — a cool summer hair color or style that speaks to the season?
Eager to uncover some new, trendy ways to update and style my hair, I recently visited a couple of hair salons to get advice straight from the pros.
My findings were quite successful — two local salons delivered me industry-insight directly. Read on for information about hip, summery hair trends to help you achieve a fresh new look.
Color trend: ombre dye
If you are looking to alter the color of your hair but are sick of traditional dye options, ombre may be the perfect new look for you. I spoke to Brad Hestand, stylist at Greenroom Salon, 924 1/2 Mass., to get the down-low on this hot summer hair trend.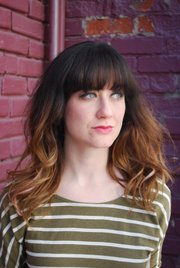 "Ombre hair coloring is a great way to brighten your hair and add dimension," Hestand says, "plus, it requires less upkeep than conventional highlights. The look can be very subtle or edgy depending on the contrast of colors."
Because ombre hair coloring concentrates the dye at the roots of the hair, the outcome is a gradual fade of darker hair colors into lighter and brighter highlights toward the ends of your hair.
Teri Wilson, a Greenroom stylist, visited the House of Bumble, New York City, to learn the techniques and bring them back to her co-workers.
The ombre hair coloring technique has already gained popularity among celebrities and trend-setters alike, and Hestand has performed this technique on numerous local clients as well.
Hair accessories
Because altering my hair is a bit trickier than changing my outfit, I was ecstatic to discover hair feathers. They are a subtle hair accessory — a quick fix and fun way to spruce up everyday hairstyles.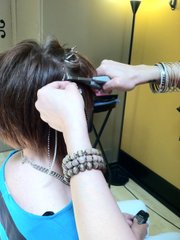 "You can wash, blow-dry, curl, straighten and braid hair feathers into your hair," says Roxanne McCoy-Klaus, owner and stylist of Static Hair Salon, 12 E. Eighth St.
The feathers, attached to your hair with a small aluminum bead, are similar to hair extensions. Plus, they are comfortable and typically last at least 6-8 weeks. And I must admit, upon hearing this fact, I was skeptical … until I wore my own hair feathers into the Atlantic Ocean for days on end, curled them for a recent fashion show and washed them daily after long, sweaty runs.
"Just try not to catch the bead on your hair brush," McCoy-Klaus says. "Other than that you should be fine."
Several area salons currently sell hair feathers, including Static, Greenroom and LADA Salon & Spa. I think they are great — an easy, carefree way to upgrade your look for summer.
Think you are too old to wear feathers in your hair? Get outta town! Hair feathers are appropriate for women of all ages.
"My mom is 63, and I recently put some in her hair," McCoy-Klaus says. "Now all of her friends are wanting them, too."
Copyright 2018 The Lawrence Journal-World. All rights reserved. This material may not be published, broadcast, rewritten or redistributed. We strive to uphold our values for every story published.