Photo Gallery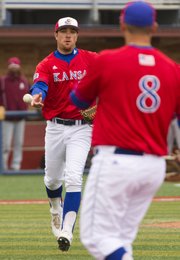 KU baseball vs. Alabama A&M
Related document

KU-Texas A&M baseball box score ( .PDF )
Sunday, for the fourth straight game, Kansas University's baseball team pounded visiting Alabama A&M; in seven innings, this time by a 16-2 margin that gave the Jayhawks their first four-game winning streak of the season.
Considering the wins against A&M; actually dropped the Jayhawks' RPI rating, it was easy to see why nobody in the KU clubhouse was doing cartwheels over the performance.
There was, however, a reason for the Jayhawks to be proud Sunday, and that was the main thing on KU coach Ritch Price's mind following the lopsided victory.
"I thought we did a really nice job of playing with class," Price said. "Sometimes when you get into games like that, it can get out of hand, and you never want to disrespect the game. That part's really important to me. And I thought our players did a first-class job of respecting the situation they were in and still finding a way to improve."
The Jayhawks scored in all but one inning, including five-spots in the first and sixth, and again pounded 18 hits. One of them literally lit up the scoreboard, as senior outfielder Jimmy Waters' second-inning home run banged off the video board in right field. Waters' team-leading seventh homer gave Kansas a 7-0 lead and left Waters smiling long after the game had ended. See, the only other time Waters had rocked a home run into the scoreboard came during intrasquad games.
"Actually, I broke the P in Hoglund Ballpark on (KU pitcher Colton) Murray one fall," Waters said. "But never in a live game."
Murray, KU's regular closer who started Sunday's game, remembered the moment all too well. In fact, as soon as Murray saw Waters make contact on his latest home run, his thoughts shifted back to that fall day, and he found himself rooting for Waters' blast to repeat the feat.
"I was kind of hoping he'd hit another letter up there so he could forget about mine," Murray said.
The outing — Murray pitched four innings, gave up two hits and one run while striking out three — didn't provide the ninth-inning drama Murray is used to, but the Jayhawks appreciated the change of pace.
"I was pleased for Colton," Price said. "He's gone, like, one inning, four games in a row, where every pitch was pressure-packed. Today, he got extended. He found his rhythm again and, obviously, he's a very important person for us."
Said Murray of trotting out to the mound in the first inning instead of the last: "I had to somehow just get excited, and the way I did that was by focusing on the fact that it was a start. And then I tripped on the way out to the national anthem."
Although KU's four-game sweep of the Bulldogs won't make national headlines, it did come at a great time for a team that struggled during the past two weekends. Last weekend, KU was swept at Oklahoma. The previous weekend, the Jayhawks dropped three straight at Texas Tech. Although the competition wasn't on par with those opponents, the Jayhawks found a way to take plenty of positives out of this weekend's sweep.
"It's better than not playing," Price said. "We just needed to play and get that winning taste back in our mouths."
The Jayhawks (26-27) will close the regular season this weekend with three games against Kansas State. Friday's contest will take place in Manhattan, and the Saturday and Sunday games will be at Hoglund Ballpark. KU needs to win at least two of three to qualify for the Big 12 tournament.
"The good thing," Price said, "is we don't have to scoreboard watch. We get to go out and play and control our own destiny."
Copyright 2018 The Lawrence Journal-World. All rights reserved. This material may not be published, broadcast, rewritten or redistributed. We strive to uphold our values for every story published.