Related document

Related document

Photo Gallery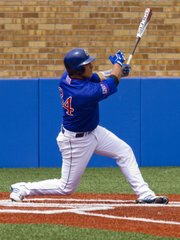 KU baseball vs. Alabama A&M
After Friday's 10-run victory against Alabama A&M;, Kansas University baseball coach Ritch Price revealed that his strategy for the weekend was to clear his bench and play as many players as possible.
He wasn't kidding.
Saturday, during KU's 19-3, seven-inning victory in Game 1 of a doubleheader sweep — KU won Game 2, 11-0 — senior T.J. Walz, the team's top pitcher, took his turn at the plate. The result? Walz hit a sharp single to right field and was lifted quickly in favor of a pinch runner.
"I was nervous," said Walz of his first career at-bat. "I couldn't believe how close the pitcher looked. I was like, 'Man, pitching should be easy.'"
In addition to becoming the first Jayhawk in the Big 12 era to top 300 strikeouts in a season and tying the school record for career pitching victories, it's likely that Walz now will be remembered as one of the few Jayhawks to bat 1.000 for his career.
Asked if he'd politely decline an invitation to step into the batter's box a second time, Walz was honest.
"I don't think they'll ask me to hit again," he said.
Senior hurler Wally Marciel also picked up a plate appearance on Saturday. Marciel, who played first base for a couple of innings as well, was unable to reach base, flying out after swinging at the first pitch.
The inaugural at-bats by the pitchers were just two highlights on the list of individual achievements during Saturday's doubleheader.
Catcher Alex DeLeon's three-run home run in the bottom of the third gave him six for the season, tying him for the team lead with Jimmy Waters.
Jordan Brown finished 2-for-4 with five RBIs. Included among them were his first career homer — a three-run shot in the third — and first career triple.
Brown said the thoughts of hitting for the cycle didn't enter his mind until after the game.
"It was a lot of fun," he said. "We're just trying to get some momentum going into the K-State series. I've been working hard for a while and it finally paid off. But I really enjoyed watching the pitchers hit."
Brown said the role reversal nearly went both ways, but second baseman Ka'iana Eldredge's request to pitch an inning was denied by the coaching staff.
Beyond the bombs, Tom Hougland's double in the third, Taylor Hart's single in the fourth and Carlo Ramirez's single and RBI in the fourth all were career firsts.
Kansas also achieved a couple of memorable team feats in Game 1. The Jayhawks ran their streak of consecutive innings scored in to 12 by plating runs in the first four innings. The streak included all seven innings of Friday's game, as well as the ninth inning in a loss to Oklahoma last Sunday.
In addition, the seven-run second in Game 1 marked the most runs KU had scored in a single inning this year. The Jayhawks eclipsed that mark in Game 2 with an eight-run third inning.
As for total runs, the 19-run effort in Game 1 was the most for Kansas against a Div. I opponent since KU topped Missouri State, 19-7, in April 2006.
While the offensive outburst that lit up the Hoglund Ballpark scoreboard stole the show, starting pitcher Tanner Poppe's short-but-sweet outing on the mound came at a perfect time.
Last weekend, Poppe lasted just two innings in a loss at Oklahoma. Saturday, the sophomore from Girard struck out six and surrendered three hits in four innings to pick up the win. Although Saturday's opponent was not what he had become used to seeing in the Big 12, Poppe (3-5) was happy with the opportunity to get back on track.
"It felt good to go out there and throw strikes and work on my off-speed stuff and get ready for next week," Poppe said. "It was a good start for me."
In Game 2, KU freshman Alex Cox pitched four innings, gave up three hits and struck out two to get the victory. Nolan Mansfield and Tyler Smith also added to the shutout.

The Jayhawks (25-27) will go for the series sweep at 1 p.m. today, when regular closer Colton Murray starts for the Jayhawks on the mound.
"We're gonna start Colton Murray so that we can extend him and try to help him find his rhythm again and the strike zone again," Price said. "For him, it's exactly what he needs."
When asked how difficult it was to prepare his guys for this type of series, Price talked about his approach.
"It's obviously an awful week to have a bye, one week before the final series of the regular season," Price said. "But this thing's about being a great teammate this weekend, taking care of your responsibilities, playing the game the right way. I told our guys, 'I expect to play everybody on our club. And I expect you to do your job so I can clear our bench at the end of each game.'"
Copyright 2018 The Lawrence Journal-World. All rights reserved. This material may not be published, broadcast, rewritten or redistributed. We strive to uphold our values for every story published.