Photo Gallery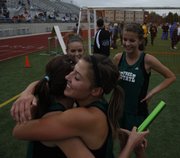 2011 Sunflower League track and field
Chalk still smeared on his neck from a hard afternoon of work, Lawrence High shot putter Blake Hocking was far from satisfied with his performance at the Sunflower League Track and Field Championships on Friday.
It wasn't that Hocking, the Lions' heavily muscled 6-foot-2 junior, had a poor showing; he captured the League championship in the shot put after hurling it 58 feet, one inch and took second in the discus with a throw of 143 feet, 10 inches.
But for Hocking — who owns Lawrence's school record at 62 feet, 9 inches — the distances were far from his best.
"I got plenty of pats on the back after I set the state record, and you can never be super hungry after a record accomplishment," Hocking said. "But today is a wake up call. It's harder to repeat as a champ than to be a champ."
"It's a great feeling," added Hocking. "But it's only one part of the journey."
LHS coach Jack Hood agreed.
"This isn't where he's going to finish this season," Hood said. "I hope he'll throw over 60 feet next week and at state he goes nuts and breaks the school record again."
It seemed fitting that Hocking wasn't too fired up about his performance, because though a solid showing at league — where Free State High finished seventh and LHS placed eighth — is nice, its importance pales in comparisons to regionals, which start next Friday at FSHS.
Hood likened Friday to a 'dress rehearsal' for regionals, saying that there won't be any banners hung in the Jungle for Sunflower League titles, but was mostly encouraged by the Lions' overall day.
To an extent, FSHS coach Steve Heffernan agreed with Hood, and he was similarly optimistic about how the Firebirds fared on a chilly, windy Friday at Shawnee Mission North High.
"If you do well, you can carry some confidence going forward," Heffernan said. "If not, at least you have an idea of what you need to do next week."
Free State's Austin Hoag tied for second in the high jump after clearing the bar at six feet, and also placed sixth in the triple jump.
Kain Anderson and Preston Newsome placed well for the Firebirds in distance events. Anderson took second in the 800 and 3,200, and Newsome took fourth in the 1,600 and fifth in the 800.
"If you're out here and you're competing against the best that's out there, and you do well, you should be feeling really good heading into regionals," Anderson said.
Among the other standouts for FSHS were Lynn Robinson, who took third in the 800 and led the 4x880 relay team to a first place finish, and Rachel Schaffer, who took fourth in the 1,600.
Free State's girls took ninth place, while Lawrence High's girls placed 10th.
LHS's boys and girls 4x880 relay teams each took fifth, and the girls 4x400 relay team finished sixth.
Other standouts for the Lions included TaMiya Green, who placed fifth in the 300 hurdles, and Krista Costa, who tied for fifth in the high jump.
Copyright 2018 The Lawrence Journal-World. All rights reserved. This material may not be published, broadcast, rewritten or redistributed. We strive to uphold our values for every story published.