Photo Gallery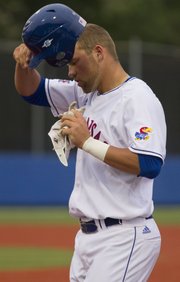 KU baseball vs. Alabama A&M
Almost two decades ago, a man named Ed McCann joined the coaching staff of current Kansas University baseball coach Ritch Price, when Price was the head coach at Cal-Poly, and a friendship was born.
Friday night, more than 19 years later, the two longtime friends found themselves coaching against each other in opposite dugouts at KU's Hoglund Ballpark.
The game, which Kansas won 14-4 in seven innings, was a colossal mismatch. Price's pristine facilities and Big 12 giants against McCann's overmatched and undermanned Alabama A&M; roster, which featured just four bench players and three total pitchers. Didn't matter. With these guys, the friendship transcends wins, losses and records. In fact, beating his old pal was so secondary that Price actually picked up McCann and his team from the airport on Thursday night.
"You guys that have been around Lawrence long enough know that Ritch Price is a special man," McCann said after Friday's loss. "How many big-time college coaches would pick you up at the airport? Any? Not no, but hell no. That's why everybody in America loves Ritch Price. He's big time. All of us off his coaching tree call him big time."
Big time was just one of the flattering adjectives McCann used to describe his former boss. Some of that was because of the time he spent working for him out west.
"Coaching with him at Cal-Poly, it was the single greatest job I ever had," said McCann, a former high school coach who had an Oklahoma state championship on his resume before deciding to risk his success for the experience of coaching college baseball.
But more of it was because of what Price did for his program this weekend. McCann is in his first year at Alabama A&M.; He landed there after deciding to leave behind 12 years as head coach at Centenary, the smallest Div. I school that dropped down to Div. III this season. When McCann took over at A&M;, every duty imaginable fell on his plate.
"There were no games, there was nothing," McCann said. "I had to start from scratch, so I called coach Price up and I said, 'Coach, we're not very good.' Right away, he said, 'I'll be good to you.'"
Because of a quirk in the Big 12 schedule, the Jayhawks (23-27) were off this weekend, allowing Price to schedule the four-game set with McCann's club.
"He called me up and he said, 'Coach, I'd like to finish my year at a premium place to play with a special trip for our players who have grinded it through the season,'" Price said. "As soon as he asked, I said, 'Hey, Eddie, I'll make some adjustments in our non-conference games and we'll get you in here.'"
The relationship between these two longtime baseball men is not one-sided. Price had an equal number of glowing things to say about McCann.
"He's got great work ethic," Price said. "That's the first thing that you realize when you meet the man. You can tell that he's really worked hard to get where he's at. He's got great passion for the game and he's one of the most high-energy guys I've ever met. I'm really proud to be his friend, I'm proud of his accomplishments."
With three games still to play in the series, both sides will do their best to make things competitive. Price plans to empty his bench and McCann promises that his guys will keep fighting. Regardless of what happens, the trip already has been a success. Two friends have enjoyed some quality time together and a struggling program enjoyed a taste of the big-time.
"Coach and I are gonna have some time to go out to dinner, but more than anything else, it's a good experience for my players," McCann said. "I knew we were gonna get our ears boxed, but, after the game, my guys said, 'Coach, I'm glad you brought us here.' They all said that."
As for the specifics of Friday's victory, Ka'iana Eldredge finished 2-for-3 with a home run and three RBIs, and Jimmy Waters was 1-for-3 with a homer and two RBIs.
Starting pitcher T.J. Walz picked up his sixth win of the season and tied Jim Phillips' school record with his 26th career victory. Walz also became the 10th player in Big 12 history — the first at KU — to record 300 or more strikeouts in a single season.
"I wasn't super happy about the way I pitched," Walz said. "But I guess that's something I can take out of it. I don't know what it really means yet, but I think, someday, I'll look back on it and be proud of what I accomplished."
Price already is.
"I think it's about more than what just took place tonight," Price said. "I think it's about the four-year career that he's had. He's become one of the greatest Jayhawks of all-time."
Copyright 2018 The Lawrence Journal-World. All rights reserved. This material may not be published, broadcast, rewritten or redistributed. We strive to uphold our values for every story published.