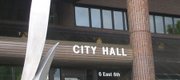 Subscribe to the email edition of Town Talk and we'll deliver you the latest city news and notes every weekday at noon.
News and notes from around town:
• Here's one arts decision that it appears Gov. Sam Brownback doesn't have any control over. The mother-daughter duo of Juli and Breanna Haller are set to open next month a new interactive arts store at Orchards Corner at Bob Billings and Kasold. Bee Creative Studio will have some elements that are similar to the downtown business Sunflower Ceramics. Bee Creative will offer pre-made pottery pieces that customers will paint and decorate. The store will then fire and glaze the pottery for you. Also, the store will have a "fused glass" station, where customers takes bits of colored glass, layer them into different shapes and colors and then studio employees put the pieces in the kiln to make it into a unique creation. One other creative outlet the store will offer is called "Paint Me." Customers will create their own drawings, paintings or designs, and the store will then use technology to transfer those creations onto items such as T-shirts, handbags, mouse pads and a variety of other items.
Breanna is finishing up a degree at Kansas University, and has had a longtime love of art. She said now seems like a good time to open a business. The store — which will be at 1410 Kasold — is expected to open June 1.
• Speaking of the governor, it is my understanding that he may very well be in Lawrence for a big event on Monday. Leaders of the Bowersock Mills & Power Co. will hold an official groundbreaking ceremony for their $20 million project to build a new hydroelectric power plant on the north bank of the Kansas River. Leaders at City Hall, anyway, have been told to expect the governor. Brownback has been to Bowersock previously to tour the company's historic south bank power plant, which will remain in operation after the project is completed. Bowersock leaders will host a groundbreaking ceremony at 2:30 p.m. Monday at the north end of the Bowersock Dam. The project likely will take about 20 months worth of construction to complete. It already is guaranteed to be one of the more interesting construction sites in the city as crews will battle the ever-changing Kansas River.
I think the project also promises to be one of the more fruitful economic development initiatives in the city. Even though the new plant won't likely require more than one or two employees, it will be selling all its electricity to the Board of Public Utilities in Kansas City, Kan. I know some people have been disappointed that Bowersock's power won't be "used" locally. But to me, the fact that Kansas City folks are buying the power is one of the better parts of the project. That means all the electricity sold is a new source of outside money for the Lawrence economy. We all know that Lawrence does its share to pump dollars into the Kansas City economy, so anytime Lawrence can grab Kansas City money and make it part of our economy, we ought to be pleased.
• A Lawrence-based company is getting some love from the Kansas City region these days. Lawrence-based EMR Incorporated has been named one of the area's Top 10 top small businesses by the Greater Kansas City Chamber of Commerce. EMR, 3200 Haskell, is an environmental consulting and engineering firm that does work all over the country. According to its web site, the company has about 140 engineers and other employees who tackle a variety of projects. The company helps clients deal with environmental regulations, toxicology issues, industrial hygiene, environmental remediation, military munitions plants, natural resource issues and a host of others. The list of other honorees can be found here.
• If you want to learn more about some other Lawrence businesses on the rise, mark you calendar for Wednesday, May 18. The Lawrence Technology Association will be hosting a business showcase from 5 p.m. to 7 p.m. at the Bioscience and Technology Business Center on KU's West Campus. The event will include speakers from several of the city's top technology firms, including Garmin International, BrightEHR, Pinnacle Technology, Horizon Analog, Computerized Assessments and Learning, and Propylon.
Plus, the event will be a chance for those who haven't seen the new incubator facility on West Campus to look around the impressive building. As we reported Wednesday, the incubator landed another tenant and the nearly 22,000-square-foot building is 50 percent leased.
Copyright 2018 The Lawrence Journal-World. All rights reserved. This material may not be published, broadcast, rewritten or redistributed. We strive to uphold our values for every story published.