Photo Gallery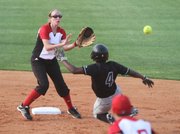 LHS softball vs. Free State
Just about everything went right for Lawrence High senior catcher Kristen Bell in Monday's game against Free State.
She played on the pristine diamond at Kansas University's Arrocha Ballpark, about which she has always dreamed.
She blasted two home runs in the first two innings and totaled five RBIs.
And most importantly, she helped her team secure a 6-5 victory against the rival Firebirds.
On the second pitch of the game before many fans were even in their seats, Bell took an outside pitch over the center-field fence for a solo home run.
"I got it all," Bell said. "It was adrenaline and everything mixed together."
The Firebirds added a run in the bottom of the inning on an RBI groundout by junior Alex Hill.
Bell wasn't done, though.
In her next at-bat in the second inning, she cranked a three-run homer over very nearly the same spot as her first. Bell couldn't help but smile as she rounded third base.
"She just gets after it," LHS coach Reenie Stogsdill said. "She's a player."
Free State coach Lee Ice said he wasn't too worried after Bell's first home run.
"The single runs don't hurt us," Ice said. "The three-run homer in the second inning hurt us a lot."
Bell added her fifth RBI in the fourth inning on a sacrifice fly, sending senior Emily Peterson home from third base.
Free State didn't back down, though, scoring four runs in the bottom of the fourth inning. Speedy sophomore A'Liyah Rogers tripled through a shallow outfield, plating two of the runs. Hill scored her on a single.
Rogers, who faced a shallow infield all game, went 3-for-4 with two RBIs and a stolen base.
Senior pitcher Lauren Massey retired nine of the final 10 batters to secure the victory.
"For us to be in that game late, I was really pleased with our effort," Ice said.
The Firebirds end their regular season at 9-11, but Ice is excited about how his young team has grown over the last two weeks.
He also thought his team enjoyed playing on a Div. I field like Kansas'. It was the Firebirds' home game, but Ice and Kansas softball coach Megan Smith agreed the softball teams should get to play at KU just like the baseball teams do.
He said he hopes the Firebirds can pick up two regional wins to return to the field for the state tournament.
The Lions (10-8) will play a rescheduled doubleheader today at Leavenworth, and Stogsdill thinks her players need to play sharper defense to be ready for regionals.
"I think we're going to be there, but we have some things to work out because some of today was ugly," Stogsdill said.
Bell is confident she and her teammates can work out the defensive issues they've been having recently.
"We're going to make a run," Bell said.
Copyright 2018 The Lawrence Journal-World. All rights reserved. This material may not be published, broadcast, rewritten or redistributed. We strive to uphold our values for every story published.