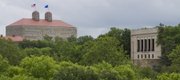 Subscribe to the email edition of Heard on the Hill and we'll deliver you the latest KU news and notes every weekday at noon.
Your daily dose of news, notes and links from around Kansas University.
• A KU alumna who made several of the "world's most powerful women" sort of lists that get published around every now and again has announced she will step down from her position.
Sheila Bair, who is the chairwoman of the FDIC, will step down from her role in July.
Her five-year term is up, and she has said she doesn't want to be reappointed, according to the Los Angeles Times.
She is an Independence native and earned a bachelor's in philosophy from KU in 1975 and a KU law degree in 1978.
Her term, from 2006 until now, was certainly an interesting time to be in charge of the FDIC and to be in the middle of all kinds of struggles for the banking industry.
No matter what she does next, I bet she'll be able to fetch a pretty penny on the lecture circuit.
• The commencement hullabaloo will begin this Thursday, as the Class of 2011 is invited to partake in the KU Alumni Association's annual Grad Grill from 5:30 p.m. to 7:30 p.m. Thursday at the Adams Alumni Center.
The event will feature a free meal with drinks (pretty sure they're not the alcoholic kind) and a performance by the student band Down with Gravity.
More information is available at the KU Alumni Association's website.
And if that doesn't satisfy your need for commencement information, surf on over to KU's commencement website, where you can get the complete rundown of all things graduation.
• Chip Taylor, director of Monarch Watch, told me he had a very successful spring open house and fundraiser last week, but he's still got a few plants available.
Those interested in butterfly gardening can stop by Foley Hall on KU's West Campus between 4 and 6 p.m. while the plants last, Taylor said.
• A colleague (we've got eyes everywhere) spotted Chancellor Bernadette Gray-Little and Provost Jeff Vitter enjoying a recent KU School of Music production of "Hänsel und Gretel," the opera that will be performed at a summer music festival in Eutin, Germany.
• Stop Day is Friday, already. Another KU year is nearly gone. Celebrate by sending me a tip for Heard on the Hill at ahyland@ljworld.com.
Copyright 2018 The Lawrence Journal-World. All rights reserved. This material may not be published, broadcast, rewritten or redistributed. We strive to uphold our values for every story published.