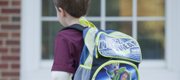 Subscribe to the email edition of First Bell and we'll deliver you the latest local education news and notes every weekday at noon.
A few notes and items regarding education in the area:
A senior at Free State High School is among 141 students nationwide and abroad to earn designation as a U.S. Presidential Scholar for 2011.
Victoria Gilman earned the honor that goes to students who have "demonstrated outstanding academic achievement, artistic excellence, leadership, citizenship, service and contribution to school and community," according to the U.S. Department of Education.
The selections are made by the White House Commission on Presidential Scholars, a group appointed by President Obama to identify scholars based on their "academic success, artistic excellence, essays, school evaluations and transcripts, as well as evidence of community service, leadership and demonstrated commitment to high ideals."
Gilman had been one of four in Lawrence and about 3,000 nationwide to be invited to apply for the 47-year-old program, established by President Johnson in 1964. The others invited to apply from Lawrence were David Lawrence of Bishop Seabury Academy, who advanced to be a semifinalist; and Rosemarie Murray from Free State, and Yuan Xu from Lawrence High School.
Gilman and the other 140 winning scholars ultimately were identified from among 3 million students expected to graduate this year from U.S. high schools.
"The U.S. Presidential Scholars exemplify what dedication to achievement and setting high standards can symbolize for all youth," U.S. Secretary of Education Arne Duncan said earlier this month, in announcing the winners. "The Department of Education congratulates these students on their artistic and academic accomplishments."
Gilman will be honored June 18-21 in Washington, and she'll have some award-winning company. One of her teachers — Andrew Nussbaum, who teaches social studies — also will be expected to make the trip, to receive a Teacher Recognition Award.
Since 1983, each Presidential Scholar as invited his or her "most inspiring and challenging teacher" to travel to Washington for the festivities, and to receive the recognition award from the Department of Education, department officials said.
•••
There's still time to nominate a certified educator in the Lawrence school district for a $10,000 award.
The district will accept written nominations and supporting documents through 5 p.m. today for the 2011 Bobs' Award, so named because the money behind the honor comes from private citizens who share the first name Bob.
The annual award recognizes "superior teaching" by someone working as a certified teacher in the district, "demonstrating excellence in the classroom and dedication to the profession," said Susan Esau, executive director of the Lawrence schools foundation.
"The selected teacher is someone who would be recognized as a 'consummate teaching professional' by professional educators and the patrons of public education in Lawrence," Esau said.
Here are the nomination guidelines, as outlined by the foundation:
• Nominations letters may be submitted by any certified teacher or building principal currently employed in the Lawrence Public Schools.
• All nominations must be written and addressed to Superintendent Rick Doll, and sent in care of Julie Boyle, USD 497 Communications Office, 110 McDonald Drive, Lawrence, KS 66044.
• The deadline for nominations is May 10.
• Supporting letters from colleagues, parents, students, alumni, and community members may be included with the original nomination letter.
• Nomination letters may not be submitted by the superintendent, school board members, members of the Bobs' group or private citizens.
• Teachers may not nominate themselves.
• All nomination letters become the property of USD 497, the Lawrence Schools Foundation and the Bobs' group and may be used in news releases and other documents relevant to a public award announcement.
• All nomination letters are reviewed and considered by the superintendent in conjunction with the executive director of the Lawrence Schools Foundation.  
• There are no restrictions regarding the use of the cash award by the teacher selected to receive it. The award is donated by the Bobs' group through the Lawrence Schools Foundation. No public money is used.
•••
As the Lawrence school district plans to dip into its savings accounts, boost bulk purchasing, reclaim its Adult Diploma Program and make other changes to help cover an expected $3 million in losses next year from state budget cuts, the Wichita school district is cutting deeper into personnel.
The Wichita district plans to cut 168 jobs, most of them teachers and other certified personnel, according to a story in The Wichita Eagle. The Wichita district also plans to close Blackbear Bosin Alternative Middle School, and send its students to Jardine Middle School.
Overall, the Wichita district plans to eliminate 74 jobs at the elementary level, 60 in middle schools and 34 in high schools.
The district has about 50,000 students, nearly 4,100 teachers, 3,000 classified and support staffers, and 165 administrators.
In Lawrence, members of the Lawrence school board have approved closing one elementary school — Wakarusa School — at the end of this year, to produce an estimated $487,000 in personnel and operational savings.
The bulk of that remaining $2.5 million or so is to come from savings accounts and other operational savings without cutting personnel. The board has agreed, however, to eliminate one teaching job at each of the district's two high schools, but those are jobs that simply will not be added to the school's personnel rosters. The schools' staffing levels are rising, as the schools welcome freshmen to campus full-time this coming school year.
The Lawrence district has more than 10,000 students, and 923 teachers and other licensed personnel.
— The First Bell mailbox is always open. Please feel free to send any feedback or ideas to me at mfagan@ljworld.com.
Copyright 2018 The Lawrence Journal-World. All rights reserved. This material may not be published, broadcast, rewritten or redistributed. We strive to uphold our values for every story published.