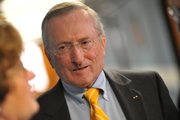 Gene Budig, former Kansas University chancellor, was awarded an honorary doctorate from The Citadel, the military college of South Carolina, this past weekend. Budig gave the commencement address at the university, which is in Charleston, S.C.
"It's a big deal for a retired two-star," said Budig, who is a retired major general of the Air National Guard/U.S. Air Force.
Budig is a graduate of the University of Nebraska-Lincoln and former president of baseball's American League. He presently is a distinguished professor at the College Board in New York City. In addition to having been KU chancellor from 1981 to 1994, Budig also led Illinois State University and West Virginia University.
He and his wife, Gretchen, reside in Charleston. He is co-owner of the Charleston RiverDogs, the Class A baseball farm team of the New York Yankees. Budig writes a column that appears periodically in the Journal-World.
Copyright 2018 The Lawrence Journal-World. All rights reserved. This material may not be published, broadcast, rewritten or redistributed. We strive to uphold our values for every story published.