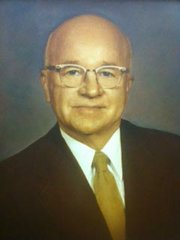 Russell Mosser, a civic-minded film producer whose Centron Corporation operated in Lawrence for decades, died April 29 at age 93.
Born in Horton, he received bachelor's and a master's degrees from Kansas University before founding Centron Corporation with his business partner, Art Wolf.
The company produced films for education, corporations and government.
"Centron was Russ. Russ was Centron," said Buck Newsom, a longtime friend who worked as a vice president for Centron.
The company operated from 1947 to 1981. During its heyday in the 1970s, it produced films for clients all over the country and used a fair amount of local talent in them, too, Newsom said.
"There probably wasn't a kid in Lawrence that wasn't in one of our films," he said.
One documentary that the company produced, "Leo Beuerman," told the story of a man who was 3 feet tall, deaf, nearly blind and unable to walk, but inspired many because of his determination.
The film was nominated for an Academy Award.
Lorene Mosser, Russ Mosser's wife, said he enjoyed sports, and particularly enjoyed playing golf and spending time with his family.
"He was good with the children," she said. "He loved his grandchildren and told them not to smoke and not to drink."
She said her husband and his film company allowed her to meet all kinds of interesting people — everyone from Hollywood types in the red carpet ceremonies to a steeplechaser from England.
"There were just umpteen million stories," she said.
He also was involved with the community. He served as a city commissioner, was involved with his church and service organizations and worked to raise funds for Lawrence Presbyterian Manor, where he would eventually move and lived until his death.
"He was a good behind-the-scenes guy," Newsom said. "He didn't take credit for anything."
After Centron was sold, Charles and Hortense Oldfather donated money to KU so the university could buy the company's building at 1621 W. Ninth St. Now known as Oldfather Studios, the building serves as a home for KU's film department.
Mosser would have enjoyed that it was still being used to make films, Newsom said.
"I hope that the success of that business, the integrity of that business and the aura of that business will live on" through the work being done there today, Newsom said.
Memorial services are scheduled for 11 a.m. June 18 at First United Methodist Church, 946 Vt.
Copyright 2018 The Lawrence Journal-World. All rights reserved. This material may not be published, broadcast, rewritten or redistributed. We strive to uphold our values for every story published.