Sandy Praeger, Kansas Commissioner of Insurance, has held many titles, including bank vice president, mayor and senator, but her most cherished title isn't work-related.
"Being called grandma is the best title yet," she says. "Grandchildren are born loving their grandparents. It's truly the best feeling to have them run to greet us when we visit them in Chicago and Denver, or when they come here."
Like all her titles, it's one Praeger takes seriously. She has first-hand experience of grandmothers' influences.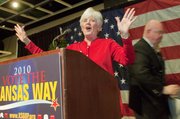 "I had a very strong paternal grandmother. I looked up to her," she says. "She emphasized the importance of community service, the value of the individual and respect for others regardless of race or religion. She valued and respected hard workers and believed any job worth doing is worth doing well.
"She opened a second-hand furniture store in the '30s because people didn't have money to buy new furniture during the Great Depression, and she worked in it until she was 90."
Praeger's maternal grandmother worked happily as a dietitian in Kansas University's Athletic Department until they discovered she was well beyond retirement age and asked her to leave at 73.
"Both grandmothers were strong women and worked hard, but family was their first priority," she says. "They instilled the importance of community service and hard work in their children and grandchildren."
After graduating from Paola High School, (where her mother taught English, journalism and sponsored the yearbook and high school newspaper), Praeger attended Lindenwood College for Women, Missouri, for a year before enrolling in Kansas University in 1963. During her first week at KU she met husband Mark on a blind date, married in 1965, graduated in 1966 with an education degree and worked in Kansas City elementary schools while Mark finished medical school. They lived in Denver and Washington state before returning to Lawrence with their two children in 1977.
Praeger remained a stay-at-home mom until both children entered elementary school. She then worked as coordinator of the Spencer Museum's docent program, director of marketing for Brandon Woods and Douglas County Bank's vice president of community affairs.
"These jobs had enough flexibility for me to manage being home when the children needed me and to participate in their school and community activities," she says. "Family always came first."
After serving on the Douglas County Planning Commission, Praeger was encouraged to run for the Lawrence City Commission. She served from 1985-87 with one year as mayor.
"After one term I felt that was enough and returned to community activities," she says.
She chaired the United Way fund drive, became a founding member of Health Care Access, Haskell Indian Nations University Foundation and was a Court Appointed Special Advocate.
In 1990, Praeger was elected to the Kansas House of Representatives, served in the Kansas Senate from 1992 to 2002, and she's served as Kansas Insurance Commissioner since 2002.
"I was privileged to have four generations of our family at the 2011 inaugural swearing-in ceremony," she says. "It's important for every generation to pass on strong family values like my grandmothers and parents did."
Copyright 2018 The Lawrence Journal-World. All rights reserved. This material may not be published, broadcast, rewritten or redistributed. We strive to uphold our values for every story published.