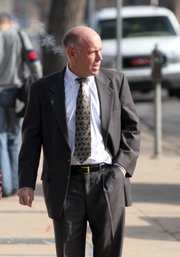 Ben Kirtland wants to be sentenced to 57 months in prison, asks to be held responsible for paying $1.2 million in restitution to his former employer, and supports being ordered to pay another $85,090 to the IRS for unpaid taxes on ill-gotten gains from a ticket-stealing-and-selling conspiracy conducted from within Kansas Athletics Inc.
Later this week, he'll find out if U.S. District Judge Wesley Brown agrees.
Kirtland, former associate athletics director for development, is asking Brown to impose the penalties outlined in a presentence report, a report that Kirtland and his attorney, Robin Fowler, have noted that prosecutors also have agreed to support.
Kirtland's sentencing is set for 10 a.m. Thursday in Wichita.
"Ben Kirtland understands that all of the harsh consequences described above are self-inflicted, and the fault of no one other than himself," Fowler wrote in a sentencing memo. "He has looked in the mirror and recognized that the blame in this situation is his alone."
Kirtland's request comes even as he disagrees with the amount of money — $315,000 — authorities say he'd received from the scheme, a scheme that an investigation conducted for Kansas University determined had run from 2005 to 2010 and had involved more than 17,000 tickets for men's basketball games and more than 2,000 tickets for football games.
"Mr. Kirtland concluded that the exact amount of money he received from selling these tickets, and the amount of restitution that he would be forced to pay, was less important than the fact that he broke the law," Fowler wrote.
Kirtland already has repaid Kansas Athletics $64,500, the amount he maintains to have personally received from the illegal ticket sales. Last year, before he was indicted on a federal felony charge of conspiracy to commit wire fraud, Kirtland entered into a voluntary civil agreement to repay the department $63,000; department officials have confirmed receiving a check from Kirtland for $64,500, or $1,500 more than had been owed under the agreement.
Kirtland also filed amended tax returns and paid $14,056 to the IRS, Fowler wrote.
A sentence of 57 months would equal the prison term imposed upon Charlette Blubaugh, former associate athletics director for ticket operations. She received the most prison time among the other six co-conspirators and others involved in the scheme, and was listed Monday as "in transit" to her prison destination by the U.S. Bureau of Prisons.
Kirtland acknowledges that he will be the highest-ranking department official to be sentenced in connection with the scheme, and that he should have "set a standard that the (illegal) sale of tickets would not be permitted," Fowler wrote.
Copyright 2018 The Lawrence Journal-World. All rights reserved. This material may not be published, broadcast, rewritten or redistributed. We strive to uphold our values for every story published.