Here's a look at a few of the items on the agenda for tonight's meeting of the Lawrence school board, set to begin at 7 p.m. at district headquarters, 110 McDonald Drive: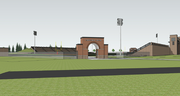 Board members will be asked to approve changes to planned upgrades at Lawrence High School's athletics fields, to be financed through donations accumulated through an effort known as LHS Building on Traditions.
Doug Gaston, a leader of the effort, is scheduled to update board members on the work scheduled for this summer: an arched entryway and ticket booth for the football stadium; stone encasements for various scoreboards, including the main one at the stadium; and related work.
You can see the drawings, a site plan and other background information online.
No district funds will be used to pay for the upgrades, said Rick Doll, district superintendent.
"Through these generous donations, we'll be able to dress up those athletics facilities," Doll said. "It's a nice finishing touch. We're very appreciative of the generous donations."
•••
Also on the agenda:
Kim Bodensteiner, the district's chief academic officer, will present a report regarding the "District Improvement Plan," mandated following a visit by consultants and educators through the Kansas Learning Network.
The plan, and visit, were required because the district was designated as "On Improvement" because of performance on state assessment tests.
Here's the district's "theory of action," as outlined in the improvement plan:
"Our district theory of action is that student achievement will be improved by creating a more coherent and highly reliable system of schools. This involves determining what needs to be systemic or 'tight' across the district vs. what can be site-based or 'loose' from school to school. We understand the need for clear district expectations and accountability along with flexibility for specific decisions to be made at the building level, contingent on school performance, to address the student and school community needs."
•••
Also on the agenda:
Board members plan to meet in executive session — that's behind closed doors, out of public view — beginning at 6:45 p.m., to discuss "personnel matters of non-elected personnel."
One potential topic: Superintendent Rick Doll's recommendation to hire G. Keith Wilson as the new principal for the Lawrence Virtual School, a matter up for formal consideration during the board's regular meeting.
Another possibility: ongoing contract negotiations between the district and its teachers.
Representatives from the Lawrence Education Association have proposed several items they'd like to see included in the next Master Agreement, which will be expected to govern wages, benefits, working conditions and other matters between the district and its more than 900 educators.
Among the union's proposals:
• All teachers would receive a $1,500 raise.
• The district would waive standard fees for enrollment, textbook rentals, extracurricular activities and related supplemental charges for students whose parents are licensed educators.
• Permit the president of the union to work full-time on union business, at district expense.
The board also met in executive session April 25 with members of its negotiating team. As noted in that meeting's minutes, the gathering was conducted in executive session "to discuss negotiations in order to protect the public interest in negotiating a fair and equitable contract."
— The First Bell mailbox is always open. Please feel free to send any feedback or ideas to me at mfagan@ljworld.com.
Copyright 2018 The Lawrence Journal-World. All rights reserved. This material may not be published, broadcast, rewritten or redistributed. We strive to uphold our values for every story published.