Photo Gallery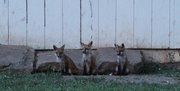 Foxes take up home in downtown Lecompton
A new family of seven has taken up residence near the Lecompton Historical Society.
Their home is made of stone, which provides comfortable shelter. Most evenings, the children come out to play.
The family of red foxes was first spotted Easter weekend playing by large slabs of rock next to a building. Since then, Lecompton residents have seen them out both morning and evening.
Paul Bahnmaier, president of the Lecompton Historical Society, said the mother fox will lie on one of the slabs and watch as her kits play.
"What I find odd is it's an area that's mowed and well-kept," he said.
The foxes don't seem bothered by loud noises and barely flinch when cars go by on the nearby road. But there is concern for people's safety, so it's best not to approach the den.
Tim Rues, administrator at Constitution Hall, said third- and seventh-graders from Mater Dei Catholic School in Topeka visited Lecompton last week and discovered feathers around the den. On closer investigation, they found a turkey claw, indicating the foxes had likely had a feast that day.
"The students really liked seeing where the foxes lived," Rues said.
If the foxes are disturbed too often, the mother fox will likely move the den. But for at least a few weeks, the family made its home in historic Lecompton under some historic 1880s limestone curbs.
Copyright 2018 The Lawrence Journal-World. All rights reserved. This material may not be published, broadcast, rewritten or redistributed. We strive to uphold our values for every story published.