Photo Gallery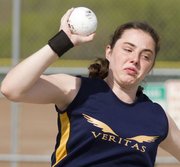 Veritas Invitational track meet
Three years ago, the Veritas Christian School track program consisted of four athletes, including now-senior Shereen Fattaahi.
Last season for practice, the Eagles ran around potholes in a gravel parking lot outside a church.
This season was much different.
The Eagles hosted the second-annual Christian Schools Invitational at Free State High on Saturday afternoon. It was a home meet of sorts for Veritas — Free State allowed the Eagles to practice on the track three nights a week during the season.
Ten teams from Kansas and Missouri competed at the high school level in the event, which was held for the first time last year at Southwest Junior High.
First-year coach Mike Bartlow said Saturday's meet was a culmination of his athletes' hard work, made possible by having a real track for practice.
"We're very grateful. Just very grateful that it worked out," Bartlow said.
Since the Eagles aren't a part of the Kansas State High School Activities Association, they don't compete in a state meet. Saturday's meet was Veritas' last of the year, so the Eagles treated it like a championship meet.
Fattaahi helped create the track team, and after competing in the 4x800 relay and the 200-, 400- and 800-meter runs on Saturday, she stood on the infield turf and smiled.
"It's so nice to be able to run on a real track," Fattaahi said.
The girls team placed second and the boys placed third. In the end, team results didn't matter much to Bartlow.
What mattered was that most of his athletes set personal records, and several of those athletes also broke school records.
The 4x400 relay of Simon Stegall, Elijah Harvey, Preston Randall and Andrew Harvey easily toppled the school record. They finished in 3:44.81, nearly seven seconds faster than their seed time.
"That just gets us even more pumped for next year," Elijah Harvey said.
Fattaahi won the 800 with a time of 2:38.47 and placed fourth in the 200 immediately after. After doing the same double all season long, she's used to the jog from the 800-meter finish line to the 200-meter starting blocks.
"She's just been phenomenal for us all season," Bartlow said.
Bartlow said he hopes that the Eagles can host the event again next season. He overheard other coaches talking about the high quality of the facilities.
He also wanted to give credit to the Eagles' first two track coaches, Dave Roberts and April Phillips.
"They worked hard to get the kids to this point, to understand what it takes, to be committed," Bartlow said.
Copyright 2018 The Lawrence Journal-World. All rights reserved. This material may not be published, broadcast, rewritten or redistributed. We strive to uphold our values for every story published.