Photo Gallery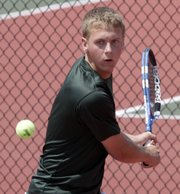 Free State and LHS 6A regional tennis
It's only fitting that one of the four Class 6A tennis regionals was held Friday in Lawrence.
The city schools, Free State and Lawrence High, shined.
The Firebirds won the team regional championship with 16 team points, and the Lions finished right behind them with 12.
Lawrence High freshman Thomas Irick secured the regional singles championship with a tense 6-4, 7-6 (7-4) victory over Free State junior Andrew Craig.
"It's been a really, really great day," FSHS coach Oather Strawderman said after posing with his team and the championship plaque for pictures.
The Firebirds qualified five players for state, the most in school history. Seniors Chris Helt and Patrick Carttar finished placed second, and the No. 2 doubles team of seniors Jack Hearnen and Luke Cortese took fourth.
Helt, Carttar, Hearnen and Cortese made it to the state tournament for the first time.
Craig also will represent Free State in Topeka next weekend.
The Lions will send four representatives to state: Irick and senior Ilan Rosen in singles, and the pair of senior Connor Schmidt and Matt Groh in doubles.
Rosen was seeded eighth out of 16 players at the beginning of the day. Schmidt and Groh were seeded 11th. The top six qualified for state.
"It's all we've been gearing up for all season," LHS coach Chris Marshall said. "This is the one day we can go to state, which it what it's all about."
Schmidt said he was elated that he finally qualified for state.
"For a little bit there, I was thinking, 'Hey, this could be the last time I'll ever play tennis,'" Schmidt said.
Marshall was also proud of the way Irick played.
In the singles championship, Irick jumped to an early lead and held on to win the first set. He took a 5-1 lead in the second set, but Craig stormed back to force a tiebreaker.
Irick pushed past Craig, securing the regional singles championship in his first season of high school tennis.
"It feels awesome," Irick said.
Craig said his ground strokes weren't sharp enough to win and that he let the wind affect him too much.
"That's the one thing that gets in my head," Craig said.
With the first-place finish, Irick will earn a top seed at the state tournament. He said that didn't really matter, though.
"Anybody can beat anybody at any one time," Irick said. "I feel as though it's a great accomplishment, but I don't mind playing whoever shows up."
The state tournament starts Friday in Topeka at the Kossover Tennis Facility.
Copyright 2018 The Lawrence Journal-World. All rights reserved. This material may not be published, broadcast, rewritten or redistributed. We strive to uphold our values for every story published.