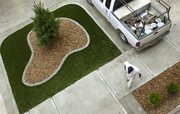 -->
Artificial turf — soon you may no longer have to be a jock to call it home.
City Hall leaders are being presented with a proposal that would give businesses and apartment complexes the option of using artificial turf to meet city landscaping requirements rather than traditional grass.
In fact, developers with the new Tuckaway at Frontier apartment complex in west Lawrence already have started to install the synthetic turf, mistakenly thinking it was legal in the city code. Now, instead of removing the artificial turf, they're asking planners to look at the potential benefits and change the city's development regulations.
"It looks great," said Paul Werner, a Lawrence architect working on the Tuckaway project, 546 Frontier Road, which is on the former site of the Boardwalk Apartments. "It needs no water. You don't have to mow it, you don't have to fertilize it, it has a long life. It is a real product, and we think it can be a viable alternative."
Ultimately, city commissioners will be the judge of that. Lawrence-Douglas County Planning Commissioners are expected to debate the development code change in June, and city commissioners would tackle the subject later in the summer — perhaps at about the time everybody has become thoroughly tired of mowing grass.
Scott McCullough, the city's planning director, said his staff has quite a few questions to answer before then. McCullough said his staff will study how well the product allows water to drain, what the city's authority would be to require replacement of the product if it gets damaged or discolored, and whether other communities have allowed the product.
"Really, I'm not sure what the implications would be to the community if we allowed it," McCullough said. "That's one of the things we'll have to study."
At least one other project in town has synthetic turf. The Oread hotel, 1200 Oread Ave., uses the product in small quantities near its entrances. Lawrence businessman Thomas Fritzel was a developer of that project and also is a developer of the apartments. Werner said Fritzel has become sold on the green aspects of artificial turf and also its cost benefits. Werner estimated artificial turf is more than five times as expensive to install than sod — it requires extensive grading and an underground drainage system — but he believes it will pay for itself in about five years due to the much lower maintenance costs.
Frank Male, an owner of Lawrence Landscape, said he thinks some homeowners might consider artificial turf in certain situations. He said he's had clients consider it for small backyards that have too much shade to feasibly grow grass.
The proposed changes to city code won't affect residential lawns — only projects that require a site plan. But McCullough said that a quick review of the residential regulations regarding lawns doesn't make clear whether the product currently is allowed.
"That's probably a question we'll have to answer," he said.
Male said his company likely won't oppose the proposed changes to city code. Instead, he said the company may learn to install the product, saying he could see how it could be a benefit in high-traffic areas where grass gets trampled to death.
"We're always looking for opportunities," Male said. "Maybe we'll jump on the bandwagon."
That's not to say, though, that Male thinks it is going to be a real big wagon.
"I guess it all depends on what you want," Male said. "There is nothing quite like going out with your puppy dog or your child and rolling around in the yard. I'm pretty sure grass is not going out of business anytime soon."
Copyright 2018 The Lawrence Journal-World. All rights reserved. This material may not be published, broadcast, rewritten or redistributed. We strive to uphold our values for every story published.