Photo Gallery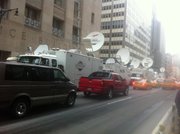 Crowds gather at Ground Zero the day after Osama bin Laden's death
News crews and onlookers gathered at Ground Zero the day after Osama bin Laden's death was confirmed by President Barack Obama.
On the street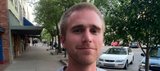 My dad texted me that 'OBL' was dead. I didn't know who that was so he had to clarify.
Kelly Griffiths, widow of Spc. Lucas Frantz
Tonganoxie resident Kelly Griffiths learned of Osama bin Laden's death via radio Monday during her morning commute to work.
She wasn't sure it was real, noting it seemed surreal.
Hours earlier, Americans across the country started rejoicing when news broke late Sunday of bin Laden's death.
For her, it wasn't as much celebration as reflection.
Griffiths' husband, Spc. Lucas Frantz, died Oct. 27, 2005 — his 22nd birthday — while serving in Iraq supporting Operation Iraqi Freedom.
"I had a long time to think about it during the day," Griffiths said.
On her way home from work in Lawrence on Monday afternoon, Griffiths stopped at Frantz's grave at a Tonganoxie cemetery.
"He's definitely on my mind," Griffiths said about Frantz. "This one person (bin Laden) has caused so much pain."
Frantz, a Tonganoxie High School graduate, signed up for the military a week after his 17th birthday, Griffiths said.
"I remember 9/11," Griffiths said. "I was in college at the time. We were dating when that happened. I remember thinking what was to come. I was very scared."
Nearly a decade later, Griffiths remembers her late husband's sacrifices.
"I'm proud of Lucas and definitely thinking about him today," she said.
Now 28 and remarried, Griffiths thinks about what is next for the United States and whether there will be a chain reaction.
"What is going to be happening because of this?" she said. "Which is why I'm a little nervous of the possibilities."
— Shawn Linenberger
Al Stuber, former Navy pilot and father of soldier
For Lawrence pilot Al Stuber, a former Navy pilot with a son in the U.S. Army who has served four combat tours overseas, Sunday's news that Osama bin Laden had been killed was welcome.
"I was just relieved that they finally caught this bad guy," Stuber said. "And I was extremely proud that the Seals did it."
Stuber uses his plane for skywriting in town occasionally — he wrote "KU" in the sky during last weekend's spring football game, and he has in the past written "9/11" in the sky to "remind the world that we didn't forget."
He said he believed that bin Laden's capture probably wasn't as big of a deal today as it would have been years ago, but he still welcomed the news.
His son served three tours of duty in Iraq and another in Bosnia as an enlisted man, and then later as an officer, Stuber said.
Stuber said he had been fielding calls from several old military friends throughout the day Monday.
"It's great news," he said. "We'll get the rest of them next."
— Andy Hyland
Adrian Lewis, KU professor of military history
Adrian Lewis, a Kansas University military history professor, learned of Osama bin Laden's death late Sunday night.
"We've been arguing about insignificant stuff, in my view," he said about things such as Donald Trump's call to see President Barack Obama's birth certificate. "Don't underestimate the significance of Osama bin Laden."
"He's touched the lives of virtually every American," he said. "I don't think Osama bin Laden touched the core of who we are as Americans," Lewis said. "But he did a lot of damage."
Lewis is the author of a book on military history from World War II to Operation Iraqi Freedom and also oversees KU's Wounded Warrior program, which allows wounded soldiers in the Army to enroll in KU courses of study. The Army pays for their tuition, and in return the soldiers commit to a three-year position in the Army for every 12 months of education paid for.
Lewis said it "warms my heart" to see Americans coming together and celebrating on television.
Though bin Laden's death will impede al-Qaida, he said, the fight is not over.
"There are going to be some very angry people," Lewis said. "There will be extremists out there who want to get us. I would bet you that every American embassy in every foreign country is sending out warnings to Americans to be very cautious."
— Andy Hyland
Doug Anrig, area captain of Patriot Guard Riders
Doug Anrig is familiar with the risks, knows the stakes and is committed to the cause.
So when Anrig, a semi-retired area captain for the Patriot Guard Riders, learned about the success of a team of Navy Seals in taking out Osama bin Laden, he felt his chest rise with pride.
Then exhale in relief.
"It's good that the mission was carried out in the way that it was and that no troops were harmed," said Anrig, who's lost count of the number of times he's ridden his motorcycle in support of soldiers and sailors returning home from the Middle East. "I give credit to the president for laying out the orders and carrying out the mission. And let's not forget the big picture being carried out by our men and women in uniform."
Anrig can't forget his own time in the service: 1976 to 1980, as a boilerman in the Navy, his "Steamer" nickname sticking to this day.
Back then, aboard the guided missile cruiser USS William H. Standley in the Indian Ocean, he had been called to general quarters in support of another rescue mission: a failed attempt to free American hostages in Iran, one that ended with helicopters crashing in the desert.
"That's part of why this mission means so much to me," he said.
Anrig, a former Lawrence resident who now lives in the Kansas City area, works for the federal government and still lends his support to the Patriot Guard, lining up motorcycles to herald the return of military men and women and to protect the families of those attending funerals of those who have fallen.
"Hopefully things will settle down now," said Anrig, whose son, Christopher, is a mechanic in the Army. "Hopefully we can start bringing our troops home as soon as possible."
— Mark Fagan
Jane Tedder, witness to 9/11 attacks
Jane Tedder said she didn't really need to hear about Osama bin Laden's death to be reminded of the 9/11 attacks.
The Lawrence resident still remembers being in lower Manhattan, where she was staying in the Marriott World Trade Center hotel for an economic conference when the planes hit the twin towers.
She was outside on the street and watched the second plane hit the tower, she recalled. She said she is still reminded of the tragedy almost daily.
All it takes is that cigarette patch commercial on TV now, the one where people are stepping down from a building onto various platforms. It reminds her of an image that hasn't left her in nearly 10 years: the people jumping out of the burning buildings.
The 68-year-old Tedder said she found out about bin Laden's death Sunday night — figuring you don't turn off the TV once you hear the president will be giving a rare late-night Sunday address.
She remembered two emotions when she first heard: relief and trepidation. Relief because bin Laden was dead; and trepidation because she feared retaliatory attacks. But, for her, there was no rejoicing, she said.
"I firmly believe that the intentional killing of any human being is not cause for rejoicing," she said.
— Andy Hyland
Lea Orth, NYC resident
Lea Orth is relieved and happy that Osama bin Laden is dead.
"It feels like a holiday," she said during a telephone interview Monday from her home in New York City. "I could hardly go to sleep last night I was so excited — really excited."
Orth, a Kansas native and Kansas University graduate, said President Barack Obama's announcement Sunday night reminded her of a scene from "The Wizard of Oz" — the one where the Wicked Witch of the West is pronounced dead and everyone celebrates.
Orth, who has children living in Lawrence, has lived in New York City since 1976. During the 9/11 attacks, she was getting ready for an 11 a.m. business appointment inside one of the towers.
She recalls first hearing about the news on her classical radio station and then later seeing hordes of people — covered in gray debris — walking past her home to get out of town. In the days after 9/11, the city was eerily quiet.
"I think we were in shock for a long time," she said.
Orth knows people who escaped the towers and she knows people who lost loved ones, including a very close friend.
Her friend had a ritual of going out on her terrace and looking at the tower where her granddaughter worked. She was talking to her granddaughter on the phone as the plane hit.
"She never really recovered from that, and her funeral was just a couple of years ago," Orth said. "I was thinking about her today and all of the others. That's why I am so very happy that it (bin Laden's death) happened."
— Karrey Britt
Lenise Eddings, artist
Lenise Eddings remembers what 9/11 made her do: It made her re-evaluate her priorities and really consider if what she was doing matched her dreams.
It didn't.
Eddings, then a Lawrence resident, painted a picture to deal with her emotions surrounding the 9/11 terrorist attacks, complete with Osama bin Laden's face. That painting set her dreams in motion.
"Those types of life-altering events have a great deal of significance, and everyone in our country reassessed what was valuable and what was a priority," she said. "Obviously, expressing myself through my painting as I watched everything unfold, that became the catalyst."
Eddings, 58, began painting regularly, and has since developed a children's book, "I Seek and Find." She sells prints of her 9/11 painting, and says it's in a place of honor in her household in Wellsville.
But when she turned on her computer Monday morning and saw the news of Osama bin Laden's death, it was a mixture of joy and sadness she found herself feeling.
"There's still a great sadness because it brings back all those memories," Eddings said. "I just don't think that it's going to be forgotten in our country."
— Brenna Hawley
Mark Johnson, special operations trainer
Eudora resident Mark Johnson celebrated Monday, hours after learning U.S. special operations forces in Pakistan killed Osama bin Laden, the leader of the al-Qaida terrorist organization who evaded American forces since the 9/11 attacks.
"This has been one of our main goals for 10 years to get this guy," said Johnson, a retired Army lieutenant colonel and former Green Beret. "We finally succeeded."
Johnson, who earned a Bronze Star during the first Gulf War and as a consultant trained special operations and conventional military officers in the Middle East in 2006, praised the execution of the raid and said it was a crippling blow for al-Qaida because it lost a "mentor and godfather."
He said members of the terrorist group likely don't have the capability now to conduct a large-scale, coordinated attack.
Johnson also said that as more details come out about Sunday's operation, he could learn one day that he helped train commanders who participated in it as he taught at Fort Leavenworth in the mid-1990s and early 2000s.
"We all," he said, "have our chests stuck out a little higher today."
— George Diepenbrock
Felix Zacharias, who served in Iraq
When Felix Zacharias received word of Osama bin Laden's death, he was sitting on his back patio smoking a cigar and listening to the Kenny Chesney song "Everybody Wants to Go to Heaven."
Smoking cigars at night was a habit Zacharias picked up while serving in Iraq. The Kansas University graduate student in political science and former president of the KU Collegiate Veterans Association said Sunday's news sent him into a texting frenzy.
It also had him thinking back to his reaction on Sept. 11. Then, he was a Marine stationed in Hawaii.
Just as he did Sunday night, Zacharias called his father on 9/11 to talk about the news.
"He said, 'What are we going to do?' And I told him I had no idea. But I was pretty sure we were going to go to war," Zacharias said.
Zacharias spent seven months in Iraq in 2006 and 2007. During that time, bin Laden didn't occupy his thoughts much.
"In reality, nothing has changed in my life," Zacharias said. "It is good to know he is gone, but I'd happily trade it back for the 22 Marines (who died) in my battalion."
— Christine Metz
Reaction at the VFW
A nice, quiet feeling is how local VFW post commander Jerry Karr described the mood Monday.
Karr, a Vietnam veteran and retired firefighter, was glad to see Osama bin Laden brought to justice.
"If it weren't for this man, they wouldn't have gone through the trauma they've gone through; there wouldn't be people who are now living with artificial prosthetic arms and legs, been separated from all their children while they served over there. Families lost sons and daughters," Karr said. "I don't find a heady joy in it. But I think it's nice to have some closure."
He was amazed by the celebrations that broke out across the country, proud of the military and happy that the president approved the mission.
"I don't think terrorism is finished by a long shot. But at least we did strike a blow today," he said. "And we let them know if you attack the United States, it might take us nine years, but we are coming."
Sunday night was a sleepless one for Andrew Foster, who was up late on Facebook chatting with other young veterans and friends he served with in the Navy.
Now a Kansas University senior studying political science, Foster served in the Navy for six years and was deployed to the Middle East and Southeast Asia. On Sept. 11, he was stationed right outside of D.C.
"It was just a weird sense of awe almost," Foster said about the news of bin Laden's death.
He hopes it will mark a turning point for the war on terror and "a step in the right direction to get everyone home."
But Billie Carey, who served two tours in Iraq with the Army Reserves, warned that with bin Laden's death America shouldn't become complacent.
"The war is not over. I hope people realize we have a long ways to go," she said.
— Christine Metz
Candy and Scott Wasser, parents of fallen soldier
For Candy and Scott Wasser of Ottawa, the death of Osama bin Laden marks another significant milestone.
Their son, Christopher, joined the Marines shortly after his 18th birthday in 2001. His first full day of boot camp was on 9/11.
On April 8, 2004, during his second deployment to Iraq, Lance Cpl. Christopher Wasser was killed by a roadside bomb. He was 21.
Scott Wasser said he is satisfied with bin Laden's death because it means the military has reached a goal it set out to accomplish.
"That chapter now is closed, and we have many more chapters ahead of us, and we don't know how that will unfold," he said.
He added that he doesn't even view the United States at war anymore. "I see it as a giant police action. The different factions of the Middle East have been fighting for thousands of years. The best you can do is police things and provide a little stability in hopes that things get better on down the road," he said.
— Scott Rothschild
Republicans, Democrats: 'Justice was served'
Kansas Republican Party Chairwoman Amanda Adkins and Kansas Democratic Party Chairwoman Joan Wagnon on Monday issued a joint statement, saying that "justice was served" in the death of Osama bin Laden, the mastermind of the 9/11 attack on the U.S.
The joint statement said: "Almost 10 years ago our nation stood together in shock at a tragedy that claimed almost 3,000 lives. Yesterday, justice was served. Today we are all Americans.
"Our heartfelt thanks goes to the men and women in uniform who've given their lives in pursuit of this day, and the soldiers and intelligence officers who made it possible."
Earlier Monday, Kansas Senate Chaplain Fred Hollomon held a moment of silent prayer and said he was grateful that no U.S. forces were killed in the raid on bin Laden.
— Scott Rothschild
Brownback thanks troops
Gov. Sam Brownback on Monday said Osama bin Laden's death was "the result of the tireless dedication of our brave men and women in uniform, and I want to thank and congratulate them on a job well done."
— Scott Rothschild
Bassam Helwani, of the Islamic Center of Lawrence
Bassam Helwani, assistant director of the Islamic Center of Lawrence, said Monday that he was glad President Barack Obama, in his address to the nation, made clear the distinction between what Osama bin Laden believed and the teachings of Islam.
"Islam is a religion of peace and tolerance. We have always stood by our position that the actions of Osama bin Laden do not represent Islam or Muslims in any way," he said.
He said the Islamic Center of Lawrence has always condemned terrorism and violence.
"We call for co-existence and celebrating our commonality. We hope this will be an opportunity for Muslims and all Americans to renew their commitment to our humanity," he said.
— Scott Rothschild
Asra Haq of Lawrence
Asra Haq, a Muslim from Lawrence, said she hoped the death of Osama bin Laden would reduce anti-Islamic sentiments in the United States "so that peace and interfaith efforts can prevail."
She said that Islam promotes peace and appreciation of all faiths.
She added that bin Laden's acts were "neither venerated or a representation of all Muslims."
-Scott Rothschild
Copyright 2017 The Lawrence Journal-World. All rights reserved. This material may not be published, broadcast, rewritten or redistributed. We strive to uphold our values for every story published.