Past Event
When: Thursday, May 5, 2011, 7 p.m. to 8 p.m.
Where: Ecumenical Campus Ministries, 1204 Oread Ave., Lawrence
Cost: Free
-->
-->
This Cinco de Mayo, one KU student-run organization will be celebrating Mexico's independence in style. Compassion for All Animals will host KU's first Cruelty-Free Fashion Show.
And after my recent discussion with the event's organizers, it is clear that the show will provide far greater entertainment than toy- and candy-laden contents of your typical Cinco de Mayo piñata.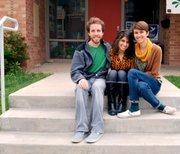 "We were initially just planning a cruelty-free dinner to gain awareness and show people that cruelty-free and vegan foods can be tasty, accessible and fun alternatives," says Cassandra Smyers, one of four co-chairs for the event. "And then the fashion show sprung up. Suddenly it's become this massive event — we have about 80 volunteers involved."
In order to successfully host this big event, CAA also teamed up with several local organizations, including Amnesty International, Lawrence Fair Trade, KU Oxfam and Lawrence Humane Society. Attendees to the event can expect a fresh vegan dinner menu developed by Chef Stefanie Petrozz, jams by DJ Dan Persechini and Mary Scahill, a hip and cruelty-free catwalk show, and access to information regarding animal advocacy associations.
I was lucky enough to score a menu preview, and the entirely vegan dishes sound surprisingly meaty, hearty and intriguing. Entrees such as Indian "Chicken" biryani, grilled beefless tips and veggie sloppy joes top the list.
The fashion show will also feature cruelty-free items, clothing designed and styled by Katya Martin, Jessica McGlothlin, Bill Wachspress, Kelly Ghahramani, Heather Jones, Mary Scahill and Ashley Morgan-Garcia.
Regardless of your familiarity with the cruelty-free movement, don't shy away from this event — members of CAA clearly assert that although they take their animal rights work seriously, they work to maintain a lighthearted atmosphere. And indeed, the upcoming event's program notes seem to sum up the group's overall mindset best:
"No need to be a vegetarian, we invite all! We have a beautiful community and we're growing — join us!"
Copyright 2018 The Lawrence Journal-World. All rights reserved. This material may not be published, broadcast, rewritten or redistributed. We strive to uphold our values for every story published.