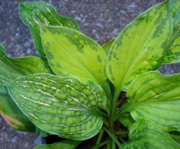 Ask almost any gardeners what to plant in a shade garden, and hostas will be at or near the top of their list. The perennial flowers, sometimes referred to as hosta lilies, are winter hardy, heat- and drought-tolerant, and have few insect and disease problems.
A relatively new disease may change the hosta world, however. Hosta Virus X, an untreatable disease of hostas, is slowly but surely spreading in landscapes nationwide.
Last summer was my first opportunity to see a plant infected with Hosta Virus X. The plant had been plucked from a Lawrence garden by its knowledgeable owner and was destroyed after a test confirmed presence of the virus.
Symptoms of Hosta Virus X include the appearance of mosaics and lines, mottling and blotches on the leaves. Sometimes plant tissues pucker or twist and small brown lesions may form on the leaves. A few varieties of hostas may not exhibit any symptoms at all.
Because hostas are available in a wide variety of sizes, textures, leaf colors and shapes, knowing what a specific variety is supposed to look like is an important key to disease detection.
Variety identification may be difficult on hostas that have been in your garden for awhile or that came from friends. In general, if one or a few hostas start to look different from the rest, they might be infected. When purchasing new plants, avoid ones that exhibit symptoms of Hosta Virus X or that appear in any way unhealthy.
Hosta Virus X is usually spread by touching infected plants with hands or tools and then touching healthy plants. Dividing the plants (propagation) also spreads the disease, especially when sharing plants with neighbors and gardening friends. Even hitting hosta leaves with a lawnmower or trimmer could spread the virus to healthy plants.
If you suspect Hosta Virus X on a plant or plants in your garden, you may want to have it tested to confirm the disease. The Kansas State University plant diagnostic laboratory performs the Hosta Virus X test for a small fee. A whole, live plant is required for testing and can be submitted to the lab through the K-State Research and Extension office in Douglas County.
Regardless of whether you want to test the plants, hostas suspected of having Hosta Virus X should be removed from the landscape and burned or otherwise destroyed to prevent further spread of the disease.
Researchers believe that the virus cannot survive in the soil, so you may be able to replant hostas in areas where Hosta Virus X-infected plants grew previously. Waiting until roots of the previous plants have completely decomposed is recommended.
A few "new" varieties of hosta are actually believed now to only exhibit unique characteristics because of presence of Hosta Virus X in their tissues. These varieties should be avoided or removed and destroyed if already planted. The cultivars believed to be infected with the virus are Breakdance, Eternal Father, Kiwi Watercolours, Leopard Frog, Lunacy, and Parkish Gold.
Copyright 2017 The Lawrence Journal-World. All rights reserved. This material may not be published, broadcast, rewritten or redistributed. We strive to uphold our values for every story published.