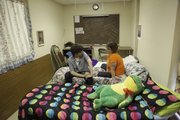 In one week, August Bonecutter lost her job, her home and her car. That year, her mother died, her sister had to go to the hospital for a difficult pregnancy, her nephew got pneumonia and her relationship went sour.
Things were difficult, and with three of her own children and a younger sister to care for, it was the first time she was homeless. That was in 2008.
Bonecutter, now 36, got back on her feet with help from friends in Ottawa and was able to get housing. Child support and survivor benefits for her sister paid the bills, but when her sister and oldest son aged out of the system, money was short again. The pipes burst in her home, and once again she had no place to go.
Bonecutter knew she needed to find another full-time job, and fast. She moved her family to Lawrence and lived in temporary housing. But time ticked away, and two days before her November finish date of a housing program she was in, she had nowhere to live.
She called Family Promise.
The agency gave Bonecutter, her younger son and daughter a place to live so they wouldn't be homeless. The program is faith-based and provides shelter to a maximum of four homeless families, helping them get back on their feet.
The families rotate among 13 Lawrence churches, sleeping in individual rooms for one week, moving each Sunday. They eat food supplied by church volunteers from the 13 host churches and 21 other support congregations. The program, which started in 2008, requires families to look for full-time work or they won't be able to stay.
"Without Family Promise, I'm not sure how bright my future would be, because I've set goals and actually met them," Bonecutter said. "I was really good at starting things and never finishing them."
'A safe place to go every night'
In 2010, 14 families were in the program in Lawrence, and every school in Lawrence had at least one homeless student. According to the National Center on Family Homelessness, 34 percent of the homeless population nationally are families.
Valerie Miller-Coleman, executive director of Family Promise, recognized the problem in 2007 when she was an outreach specialist for the homeless, dealing specifically with families. In many cases, parents were wary of taking their children to a traditional shelter. So Miller-Coleman worked with Lawrence resident Joe Reitz to start the program.
"It serves a vital need: the need to get those kids out of the back seats of cars and out of motel rooms," she said. "At the same time, it does a lot to educate the community about the homeless population. It knits the community together."
Miller-Coleman said families must follow strict rules, including maintaining sobriety and passing a criminal background check for violent or sexual offenses.
Families must be out of churches by 6:30 a.m., when they go to the day center. There they have access to computers for job searching, as well as shower and laundry facilities. They go back to the churches around 5:30 p.m., and everyone is expected to be on time to dinner.
Most importantly, families should be comfortable, but not get too comfortable.
"It's not home. This is not meant to be home," she said. "Ideally, they will get housed quickly."
Bonecutter understands that concept and says staying in a different church each week is a better option than being on the streets.
"My children and I have a safe place to go every night," she said.
Bonecutter's son, Jeremy Scott, 17, agrees with his mother, although once in a while he said he gets embarrassed about not having a home. But the high schooler doesn't worry about friends gossiping about his situation.
"If they don't want to talk to me or be friends with me because I'm homeless, then they weren't worth being friends with in the first place," he said.
For Bonecutter, the program has provided her a base level to work from. She's paid off a $2,500 debt that she's had for years, and all that's left is finding reliable full-time work. She's learned accountability and culpability, and realizes she can't always help everyone.
"I'm a caretaker," she said. "The first indication that you aren't dealing with your own stuff and you're not owning your own stuff is when you're too busy taking care of somebody else's."
And most of all, she's showing her kids, whom she calls "amazing," how to work hard and face adversity.
"When I look in the mirror at the end of the day, I want to see a person that I would be proud of my children being," she said.
Bonecutter has been approved for a transitional housing voucher, but it won't be available for a few more months. Once she finds full-time work, she will be back on her feet, but she knows it wouldn't have been possible without Family Promise urging her.
"If you're willing to make the work and ask for help and learn, it's all there," she said.
Copyright 2018 The Lawrence Journal-World. All rights reserved. This material may not be published, broadcast, rewritten or redistributed. We strive to uphold our values for every story published.