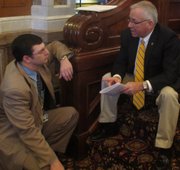 Topeka — House members slogged through their budget debate Thursday, making few changes to a proposed $14 billion bill amid news state revenues continue to lag behind estimates.
The Department of Revenue said March collections were $19.4 million below what the state was counting on from taxes. Much of the decline was blamed on accelerated refunds being paid to Kansans filing individual income taxes electronically, increasing the pace of refund returns.
Sales taxes also declined, giving House Speaker Mike O'Neal reason for concern.
"It's not a seasonal type of thing where there's any easy answer, other than we're down," said O'Neal, a Hutchinson Republican.
The revenue shortfall would be covered by the spending cuts being considered by the House and approved in a rival version by the Senate. It is not expected that further reductions in the current budget will be necessary before the end of the fiscal year June 30.
Republican Gov. Sam Brownback has already trimmed current spending by $56.5 million to balance the 2011 budget.
House members made few changes despite dozens of amendments to the bill. One trimmed nearly $280,000 from agency budgets for bottled water, paper clips and other office supplies and transferred it to the operating budget of the Kansas Neurological Institute for the developmentally disabled.
Overall, the budget calls for spending some $6 billion in state revenues and eliminating a projected $493 million revenue shortfall.
"We were named Bleeding Kansas when we were founded as a state, and we're bleeding now financially," said Rep. Kasha Kelley, an Arkansas City Republican.
Kelley offered an amendment to cut spending by $100 million, excluding public safety agencies such as prisons and the adjutant general. She and fellow conservatives argued that the state should operate like countless businesses statewide that have slashed spending just to stay afloat.
"Can we at least, at least, begin the process of slowing the growth of state government or is that too much to ask?" said Rep. Lance Kinzer, an Olathe Republican.
The budget spends $800 million more in state revenues than the 2010. Kinzer said voters sent a class of more than 30 freshmen Republicans to the House in November to control spending, not "business as usual."
"This is not a draconian cut. It's not a proposal to destroy Kansas government," he said.
The cut was defeated by a 77-46 margin with bipartisan opposition to the cuts, especially the effects it would have on smaller agencies such as agriculture.
Some House Republicans sought to go deeper with the cuts in hopes of improving on the $80 million in reserves the budget proposal would create. One would have cut overtime pay for state employees by 50 percent.
"These are tough times and we have to make some tough decisions. I'm asking that we take a look at the entire budget," said Rep. Caryn Tyson, a Parker Republican.
Most of the efforts were to move less than $5 million in funds from one account to the other to protect programs, such as cuts in parole officers and community corrections.
The House plan creates more savings than the $7.5 million recommended by Brownback. His budget is closer to the version the Senate approved Tuesday, which leaves about $8 million in reserve.
Negotiators from the two chambers will begin reconciling the two versions while the Legislature is on its recess. The goal will be to have the final version ready when the session resumes in late April.
One key difference is the cuts to public schools. The Senate cuts state aid to the 289 Kansas school districts by $226 per student, while the House cut is $250 per student. Brownback has recommended $232 per student.
The House budget committee is considering another education bill that would redefine at-risk students. Currently the definition includes students receiving free or reduced-priced lunches. Districts receive extra funds on the basis that students living in poverty are at greater risk of academic failure. The new definition would keep the current standard for students through the fourth grade.
From then on, only students who fail to meet proficiency on state assessments would be considered at-risk of academic failure and trigger additional fund for their school districts. The change would result in a reduction of more than $100 million in at-risk spending.
The change is not included in the budget bill debated Thursday.
O'Neal said when economists gather in April to make the next revenue estimate for the coming year that they should consider a more modest figure. He's not convinced the Kansas economy will have the 6 percent growth some officials are expecting.
"We probably need to have a realistic growth rate so we can budget accordingly," O'Neal said.
Copyright 2018 The Associated Press. All rights reserved. This material may not be published, broadcast, rewritten or redistributed. We strive to uphold our values for every story published.