Photo Gallery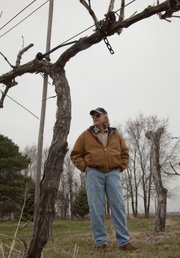 Davenport Orchards and Winery
For 15 years, Davenport Orchards and Winery owner Greg Shipe has been working to reduce the amount of herbicide sprayed in the late spring and early fall. Sensitive crops, like the grapes Shipe grows, can be badly damaged when herbicides sprayed in nearby fields drift over onto other plants.
Related document

Sensitive Crop Areas ( .PDF )
In the fight against noxious weeds, Douglas County is borrowing a concept straight from the courtroom: diversion.
No, the county isn't giving invasive weeds a second chance to get their act together before putting them away for life. But it is asking landowners to wait until fall before applying herbicide on weeds that flower in late spring and early summer.
It's a tactic that could result in the spraying of fewer chemicals and a reduction in the negative effects the herbicides have on nearby crops, said Mike Perkins, who is the operations division manager at Douglas County Public Works.
For more than a decade, the county has been attempting to balance the need to keep noxious weeds from spreading and finding methods to destroy those weeds without damaging sensitive crops, such as tomatoes and grapes.
With more people looking to open vineyards and grow specialty crops, the issue will become more pressing, Perkins thinks.
In previous years, the county's noxious weed division has patrolled the region looking for areas where noxious weeds have taken over. It then notified the landowners of the problem, let them know they can purchase herbicide at the county at a 25 percent discounted rate and then required them to control the problem within days.
Often those notifications come in late May and early June, when a particularly troublesome noxious weed, the musk thistle, begins to flower. An extremely effective way to control musk thistle is through spraying the herbicide known as 2,4-Dichlorophenoxyacetic acid, or 2,4-D.
But when the herbicide is sprayed at temperatures above 85 degrees (which is frequent in late spring), the chemicals vaporize. In the right climate conditions, the vapors can drift for miles. When those vapors reach sensitive crops, the results can be devastating.
Each year, Davenport Orchards and Winery owner Greg Shipe sees his grapes damaged from 2,4-D. While none of his grapes have been killed, over time the herbicide weakens the vine and he has to replace them.
If the problem were better controlled, Shipe said he would be able to plant more grapes and expand his vineyard.
"Because we have to replace grapes, we can't gain any acreage that way," he said.
The best time to knock out noxious weeds is in the fall after the first cold snap, said Bill Wood, director of Douglas County's K-State Research and Extension office. That way the herbicide will be absorbed all the way down to the root and won't come back until spring. It also will be sprayed after the sensitive crops are harvested.
For years, Wood, Shipe and the Public Works Department have tried to figure out ways to educate landowners about the damage herbicides can do to surrounding crops.
The state can issue fines when herbicides drift onto someone else's property destroying crops. However, determining who is at fault can be difficult.
"(2,4-D) is very inexpensive, fairly productive in what it does. It's used in yards and pastures and used for certain crops, so lots of people use it," Wood said.
The county has handed out brochures and created maps of where sensitive crops are grown. More than 40 landowners are listed on the map, including those who grow grapes, tomatoes, berries, apples, pumpkins, bees and strawberries.
When landowners come to buy herbicides, the county shows them the map and recommends spraying in the fall. It also sends educational material to everyone who has bought chemicals in the past year and encourages specialty crop owners to register.
This summer when the county comes across a patch of noxious weed, it will ask that landowner to find a way to control the weed until the fall, when chemicals will be sprayed. Most of the time, the landowners will have to mow the weeds once or twice to keep them from going to seed.
"Our long term goal is if we can get people to treat weeds at the appropriate time, eventually we can use less chemicals and better control the weeds," Perkins said.
Copyright 2018 The Lawrence Journal-World. All rights reserved. This material may not be published, broadcast, rewritten or redistributed. We strive to uphold our values for every story published.