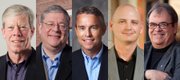 Our special section for the 2011 Lawrence City Commission election has videos, live chats, stories, a straw poll and a candidate selector to help you choose which candidate you're voting for.
News and notes from around town:
• The campaign kitchen is getting a bit hotter in the race for the Lawrence City Commission. At a candidate forum this morning — hosted by Downtown Lawrence Inc. — candidates mixed it up over the idea of special taxing districts. Candidate Bob Schumm has been highlighting the issue often; he recently sent out a mass mailing deriding the idea as a "sneaky tax." And he hammered on the issue again today, saying Lawrence would have a world-class reputation as high-tax community if it starts approving these districts.
"It is going to kill you people and it will kill me too," Schumm told the room of largely downtown merchants.
Schumm owns Buffalo Bob's Smokehouse and Dynamite Saloon in downtown.
But candidate Mike Machell made a point to take exception to some of Schumm's reasoning on the project. Machell said he wants to be cautious with the use of special taxing districts, but said he doesn't want to rule out their use entirely. He said Schumm's strong opposition to the special taxing districts will make it more likely that new development will happen on the edge of the community instead of in areas that need to be redeveloped. Machell reasons that the special taxing districts can help make some redevelopment project more feasible. Without the districts, developers will be tempted to go to "greenfields," on the edge of town where the development hurdles are usually shorter.
Machell wasn't done there. He also made sure to mention that Schumm had benefited from a city subsidy in the past. The city previously had a program that helped pay for the installation of fire-sprinkler systems in downtown buildings. The program was short-lived and only a few businesses ended up receiving any city assistance, but Schumm's was one of them.
"The money for that came out of the taxpayers' pockets," Machell said.
The comment came at the end of the candidate forum, and Schumm wasn't given a specific opportunity to respond. But he was asked about the sprinkler project previously on a LJWorld.com chat.
• A key political endorsement in the Lawrence City Commission race has been handed down. The two unions — technically "employee groups" — that represent Lawrence police officers and firefighters are endorsing Hugh Carter, Mike Dever and Bob Schumm for the three spots up for grabs on the commission. As far as endorsements go, this one is viewed as an upper-tier one by most candidates. That's because city employees are pretty motivated to vote. The firefighters group has 115 members, and the police organization has 122. Plus, it is my sense that quite a few city employees look to these groups for advice since both the police and fire organizations ask a lot of questions about how candidates would address pay and benefit issues for city workers. The city has about 1,400 employees (not all full-time), and that is certainly a sizable potential voting bloc in the City Commission race. The third place-finisher in the 2009 race won with 3,585 votes.
• The endorsement also comes with a monetary donation to each of the candidates' campaigns. The Lawrence Police Officers Association's Political Action Committee gave $500 each to the three candidates. According to the Kansas Governmental Ethics Commission, the police officers association recently registered its PAC as a state organization, meaning the group also can give money in state elections. It also means it doesn't have to file a public report of contributions and expenditures until January.
• I know I said yesterday that I would post the responses candidates gave to the Lawrence Association of Neighborhoods questionnaire. But, it is now 1 p.m. as I write this and I haven't got the information all formatted yet. So, tomorrow, really. Also, I've gotten the responses to the League of Women Voters questionnaire. For those of you who are election fans, it is something for you to look forward to. For those of you who aren't, well, April 6 (the day after the election) will be here before we know it.
Copyright 2018 The Lawrence Journal-World. All rights reserved. This material may not be published, broadcast, rewritten or redistributed. We strive to uphold our values for every story published.