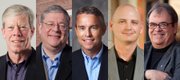 Our special section for the 2011 Lawrence City Commission election has videos, live chats, stories, a straw poll and a candidate selector to help you choose which candidate you're voting for.
-->
"Sneaky taxes" are quickly becoming the steamy issue in the race for the Lawrence City Commission.
The five City Commission candidates Wednesday clashed over the idea of how and when special taxing districts should be used as an incentive for new retail development in the city.
At a forum hosted by Downtown Lawrence Inc., candidate Bob Schumm again spoke out against the idea of special taxing districts — particularly Community Improvement Districts that allow retailers to take the proceeds from a special tax and use it for private improvements. Schumm has been highlighting the issue often and recently sent a mass mailing to voters suggesting the city was too lax on "sneaky taxes."
"The people absolutely hate this idea," Schumm said of the taxing districts. "They think it is just the most unfair tax ever."
Schumm was joined by candidate Sven Alstrom who said the special taxing districts were unnecessary in a community of Lawrence's size.
But a trio of candidates — Hugh Carter, Mike Dever and Mike Machell — said they were open to the idea of the special taxing districts, although they would want to use them judiciously.
Machell, however, went further and questioned whether opposition to the special taxing districts would add to urban sprawl in Lawrence. He said the special taxing districts could help make redevelopment projects more feasible. Without the districts, new development will be more likely to occur along the edges of the community, he said.
Machell also made sure to point out that Schumm — the owner of Buffalo Bob's Smokehouse and Dynamite Saloon — previously had received a direct city subsidy to complete a private building improvement.
The city previously had a program that helped pay for the installation of fire-sprinkler systems in downtown buildings. The program was short-lived and only a few businesses ended up receiving any assistance. Schumm's property was one of them.
"The money for that came out of the taxpayers' pockets," Machell said.
The comment came at the end of the candidate forum, and Schumm wasn't given a specific opportunity to respond. But after the forum he said the sprinkler grant program served a good public purpose of trying to prevent a major downtown fire.
"There is a safety issue, and what we really wanted to avoid was a Fort Scott-style annihilation of a major portion of downtown. That would have been devastating for the community."
The election is April 5. Voters will choose three commissioners for the five-member board.
Copyright 2018 The Lawrence Journal-World. All rights reserved. This material may not be published, broadcast, rewritten or redistributed. We strive to uphold our values for every story published.