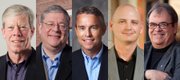 Our special section for the 2011 Lawrence City Commission election has videos, live chats, stories, a straw poll and a candidate selector to help you choose which candidate you're voting for.
-->
News and notes from around town:
• If money talks and everything else walks, there is a clear trio leading in the race for the Lawrence City Commission. According to new campaign finance reports, three candidates have raised more than $20,000 in their race for the commission, while the remaining two are well behind.

Related document

Hugh Carter March campaign finance ( .PDF )
Related document

Mike Dever March 2011 finance report ( .PDF )
Related document

Related document

Bob Schumm March 2011 finance report ( .PDF )
Related document

Lawrence financial adviser Hugh Carter is the top fundraiser in the race with $21,854. Longtime downtown restaurant owner and former Mayor Bob Schumm is second with $20,944. Mike Dever, an owner of an environmental consulting firm and the lone incumbent in the race, is third with $20,074. Mike Machell, a human resources director, is fourth with $11,959. Sven Alstrom, an architect, did not file a report by the Monday evening deadline. He previously had raised just $625. UPDATE: Alstrom filed his report Tuesday morning. He raised $755 during the period.
The filing is the last one required before the April 5 election. Historically, the numbers have provided some insight into which candidates have momentum heading into decision day. Looking at it through that glass, the numbers are a little different. Schumm and Carter were the clear leaders in terms of money raised during the Feb. 18 through March 24 period. Schumm raised $7,854 during the homestretch, while Carter was nearly identical with $7,844. Machell and Dever were in a different tier, but it is worth noting that this final period was Machell's best of the year for fundraising. Machell raised $5,864 while Dever had $5,129.
Fundraising totals aren't a perfect predictor of how a race will come out, but the top three fundraisers in the last City Commission election did end up winning the three spots. In the 2007 election, two of the three top fundraisers won a spot. The third-, fourth- and fifth-place fundraisers, however, were essentially within $2,000 of each other.
A big question in this race, though, is whether voter turnout will be significantly different from the past two elections. As I've previously noted, those two elections had a heavier turnout on the west side of town than the east side of town. The question among candidates is whether the talk of consolidating several eastside schools will cause more eastside voters to come out for the school board race. While they're out voting for school board members, they'll likely vote for the City Commission as well. We'll know soon enough.
For those of you interested in more details about the candidates finances, the complete reports for each candidate — including a list of donors — are available to the side of this article.
• Candidates also have been busy filling out questionnaires. The Lawrence Chamber of Commerce recently posted on its website the answers to its questionnaire. Check it out here. There are several interesting questions, but the ones that I thought provided the most new information were related to how commissioners would go about cutting the budget or raising taxes to make up a revenue shortfall. There's a difference of opinion among the candidates about what the top strategy should be for dealing with a budget shortfall. Alstrom and Dever both said across-the-board budget cuts would be a preferred strategy. Carter had that last on his list of options. Instead his top strategy was to cut the planning and development services division. Machell said he would cut administrative costs first, then planning and development services and across-the-board cuts would be his third choice. Schumm said across-the-board cuts and cuts to parks and recreation funding were tied for his top choices, along with reducing city employee numbers through attrition.
The Lawrence Association of Neighborhoods also has a questionnaire, and the group has provided me those answers. I'm in the process of formatting those and will have them in tomorrow's Town Talk. We'll also look around for the League of Women Voters questionnaire and ones from the city's police and fire unions.
Copyright 2018 The Lawrence Journal-World. All rights reserved. This material may not be published, broadcast, rewritten or redistributed. We strive to uphold our values for every story published.