I don't quilt (yet), but I have managed to collect a number of 5-inch charm squares. I don't know why they are called charm squares, but I find a lot of the patterns I have charming. So I came up with a quick patchwork project to put them to use.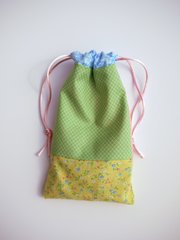 Supplies
• 4 5-inch fabric squares
• ruler
• scissors
• iron
• sewing machine
• thread
• 1 yard ribbon
Instructions
Cut one square in half so you have two 2.5-inch-by-5-inch rectangles. Press 1/4-inch folds on each short end, wrong sides together. Then press the rectangle in half lengthwise, wrong sides together. This will be the drawstring casing.
The other three squares will be sewn end to end, using a 1/4-inch seam, to make a 5-inch-by-14.5-inch rectangle.
Line up the edge of one drawstring casing with one short edge of the long rectangle, right sides together. It should be centered with about 1/4-inch left over on each side. Sew a straight 1/4-inch seam to attach the casing. Repeat on the other short end of the long rectangle with the second casing.
Now that all the pieces are attached, press the seams. Press the casing seams toward the squares, and the other seams between squares can go either way. They don't need to be pressed open — just press them flat to one side or the other.
Fold the long rectangle in half width-wise, right sides together. Line up the casings. Sew a 1/4-inch seam along each side, backstitching at each end. Don't sew the casing closed! But because the casing edges were pressed in, they should be out of the way when you sew the seam.
Flip the bag right-side out. Cut two lengths of ribbon about 18 inches apiece. Using tape on the end of the ribbon or a safety pin, or both, thread the first ribbon through each casing. Trim if needed and knot the ends. Do the same with the second ribbon, but go through the casings from the opposite side so each end has ribbons hanging.
And that's it! You have a bag ready for gift-giving, wrangling small items in your purse or a myriad of other uses.
Copyright 2018 The Lawrence Journal-World. All rights reserved. This material may not be published, broadcast, rewritten or redistributed. We strive to uphold our values for every story published.