Your daily dose of news, notes and links from around Kansas University.
• I remember a former KU economics professor of mine (who's now a Heard on the Hill fan and tipster) telling me a bit about the economics of big-time college basketball.
Because athletics departments aren't allowed to spend money on player salaries, they instead spend money in other areas to gain a competitive advantage. That's why coaches make such large salaries, he said. Because they can't spend money on paying great players, they instead spend it on paying great coaches.
This also applies to spending on lavish facilities and a whole other set of expenses, too.
One such expense, of course, is the recruitment of players. And, according to Bloomberg, in that area, KU is outspending all but one of the public universities in the six major basketball conferences.
The university at No. 1? It's fellow basketball powerhouse Kentucky. Kentucky spent $434,095 on basketball recruiting during the 2010 fiscal year, while KU spent $419,228.
The data were collected using open records requests, so the private universities (such as Duke, say) aren't included in the data.
The University of Florida came in a distant third at $326,306.
All of those schools made the NCAA Sweet 16, but the University of Wisconsin did too. And they spent the least — $57,397 — among the public schools in the major conferences.
And, of course now that KU's been eliminated from the tournament, I bet most KU folks are repulsed enough with any basketball talk to have not read this far down into this post. So congrats if you're still with me.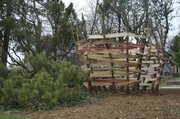 • Neil Goss, a senior from Pratt studying ceramics and textiles, is the creator of a new sculpture on the KU campus.
It can be found across from the Chi Omega fountain, near Lindley Hall and the Art and Design building. It's called the Earthway Studio.
It's kind of like an inverted teepee, with the base about six feet in diameter, featuring limbs that are 10 to 12 feet tall.
He will also have some public performances scheduled as part of the art project, and plans to work inside the space, which will serve as sort of an outdoor studio for his work.
It will feature decomposition dyeing pots and plants being prepared for the natural dyeing process.
It will be on display until May 15.
One interesting part of Goss' process — interesting to me, at least — involved going before the Public Art on Campus Committee (it's higher education — there's a committee for everything).
They read his proposal, and approved it, and made some changes. For example, though he originally wanted to keep it up through the summer, they'll take it down before commencement.
He was pleased with the committee's approval.
"It's very exciting," Goss said. "I like it just because I'm trying to show my artwork outside the art world, and exposing it to people who might not like it."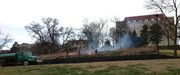 • As a sort of "what happened while you were away on spring break," a splendid tipster sent in some photos of a controlled burn on the Prairie Acre near the chancellor's residence and the intersection of Sunflower Road and Sunnyside Drive.
Now, it just looks like scorched earth.
The KU Libraries also captured the moment on their Facebook page.
The space was dedicated in 1932, and was the brainchild of four KU alums — Agnes Thompson, Amida Stanton, Rose Morgan, and Hannah Oliver. They protected the space after growing concerned about the development of the campus that had destroyed much of the natural prairie in the area. Much more history on the Prairie Acre (which is really only a half-acre) can be found here.
From that site, too, it looks like regular burnings had lapsed for awhile, so it's good to see the commitment to preserving the natural space.
• Lots of good Heard on the Hill tips today, proving once again that tipsters are the best people ever. Join the fun at ahyland@ljworld.com.
Copyright 2018 The Lawrence Journal-World. All rights reserved. This material may not be published, broadcast, rewritten or redistributed. We strive to uphold our values for every story published.