A few education-oriented items from around the area and beyond:
Join us for an online chat at 1 p.m. Tuesday with Jamie Shew, Douglas County clerk, as we discuss upcoming elections for area government, including the Lawrence school board.
Anyone wishing to send in questions ahead of time may do so, following the link alongside this story. Advance voting is ongoing, and April 5 is Election Day.
There are nine candidates running for four available seats on the Lawrence school board. Winners will take office in July.
•••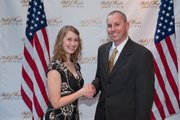 A Free State High School student beat out more than 24,000 other participants for a top spot in America's largest high school essay contest conducted by the Bill of Rights Institute.
Neva Swartzendruber, a junior at Free State High School, won $500 for her third-place finish in the Being an American Essay Contest, sponsored by the Bill of Rights Institute, an educational nonprofit based near Washington, D.C. Swartzendruber's sponsoring teacher, Dustin Leochner, also received a matching cash prize.
In her essay, "Ambition," Swartzendruber outlined the importance of ambition not only in the nation's beginning but also its role in pushing America forward today.
An excerpt:
"Whether it be a seventeen-year-old girl from Kansas pushing her way through high school, the young Frederick Douglass in the 1800's teaching himself to read, or the congregation of men gathered around the first draft of the Declaration of Independence, the common force which has united them along with all those who have made a difference in America remains the same: ambition."
Her full essay is available online, at the contest's website.
•••
The Eudora school district's Kindergarten Roundup is set for a parent meeting at 7 p.m. April 19, at Eudora Elementary School. Parents attending the meeting will be able to schedule child screenings, which will be conducted by appointment April 28 and 29.
For more information about the roundup, visit the district's website.
Copyright 2017 The Lawrence Journal-World. All rights reserved. This material may not be published, broadcast, rewritten or redistributed. We strive to uphold our values for every story published.