Photo Gallery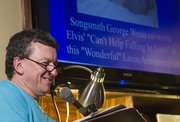 Trivia DJs set scene in Lawrence
Trivia nights around town
Smackdown! Trivia at the Bottleneck
7:30 p.m. Sundays
$5 entry fee
Three questions per round, per team
Winning team splits pot
Average run time: two hours
Trivia League (through Challenge Entertainment)
8 p.m. Tuesdays at Salty Iguana (offered almost every night of the week at different bars and restaurants around town)
Free to play
Six rounds of questions, plus half-time and final questions
Teams wager points based on categories
Winning teams get league points and $50, $20 or $10 gift certificates to the host bar
Average run time: two hours
Conroy's "Pub Quiz"
8 p.m. Wednesdays
$5 entry fee
Two rounds with six categories, six questions in each category
Winning team splits pot
Average run time: two hours
The pursuit of an entertaining night out with friends in Lawrence is anything but trivial.
That's due in part to the several, varied trivia nights offered around town. Each bar and restaurant offers something unique to those who attend, which is what keeps the patrons coming back for the challenge each week.
Along with the food, friends and variety of libations served, each trivia night has something else that's unique: its trivia disc jockey. From off-beat humor to crowd involvement and personalization, there's something for everyone. Here are a few locations hosting regular trivia nights.
The Bottleneck — 7:30 p.m. Sundays
Andy Morton certainly doesn't hold down the weekly Smackdown Trivia at the Bottleneck for the paycheck. He does it to watch teams compete.
"That's my version of going to the movies," Morton said.
Morton has run Smackdown in downtown Lawrence since 2000. Though the crowds have grown during the past few years, trivia was never something Morton imagined would grow in the way it has. On a weekly basis there are 40 to more than 70 trivia addicts crowding the Bottleneck's tables.
"It started out as a whim," Morton said. "Here I am 11 years later still doing this."
Morton writes the majority of the questions himself, something that can take him mere hours to several days. He doesn't always go it alone, though. He has help from the various co-hosts. They help write some questions and keep score for the teams in attendance.
Morton said the crowd can become raucous.
"My main job besides asking the questions is to keep the show moving," Morton said. "There's some entertainment value to it so I'll get lippy back to the teams."
Bailey Slater has frequented the trivia scenes in Lawrence during the past two years. She's found herself continually drawn to Smackdown for the atmosphere and challenge. Morton's quick wit is simply a bonus.
"He's hilarious and still manages to keep this crowd in check," Bailey said. "It's a great time."
Salty Iguana — 8 p.m. Tuesdays
The tandem of Melissa Sigler and Denver Porter help attract crowds to their various weekly venues, one of which is the Salty Iguana, on Tuesday nights.
The duo, who arrived on the trivia scene during the summer of 2010, lend their social skills to the not-always-friendly competitions. As part of the Lawrence Trivia League rotation, which runs for 11 weeks, they often see many of the same faces.
"We've got a rapport going with some of them," Sigler said. "We've become friends with a lot of them."
That friendship has led a number of league regulars to follow the duo from place to place each week.
The leisurely pace of trivia in the league allows for a more relaxed experience, although Porter and Sigler said they've had some heated competition.
Sigler personalizes the experience by letting trivia contestants request songs to play between questions. The theme for the songs people are allowed to request changes by the week. A recent theme called for songs with colors in the titles.
Lawrence resident Mark Barlow, only a three-week veteran of the trivia league, enjoys the casual pace and laid-back atmosphere.
"I found out the trivia was free then thought, 'Sure, why not?'," Barlow said of his inauguration.
Conroy's Pub — 8 p.m. Wednesdays
Tom Conroy sees trivia everywhere. It's part of being a buff.
It's also part of what's allowed him to maintain his weekly trivia night for the past 14 years.
"I just love it," business owner and trivia DJ Conroy said. "There's always something you want to share with people."
Conroy shares everything, too — from jokes that make attendees groan to tidbits of knowledge no one else knows about. That's one plus-side of reading three newspapers and cruising the Internet each day the way Conroy does.
The people who participate in Conroy's "Pub Quiz" are as dedicated as the host. Trivia players say they try to attend every week, rain or shine.
"They'll get here," Conroy said. "They have to have it. It's really cool."
The questions range in difficulty but are answered correctly the majority of the time. Stumping the 20 to 30 people who participate regularly is enjoyable, but Conroy knows the bottom line.
"People just like to answer questions," he said.
Meagan Patterson is one of those people. A Conroy's veteran of two years, Patterson and her friends have become a regular team.
"You really get to know the other people," she said. "You get to know people's strengths and weaknesses."
Conroy gets to know people, too, as evident by the first-name basis he's on with many players. He also doesn't see an end to his trivia days in sight.
"It doesn't seem to get old," he said. "People are always interested. It's kept people coming, and that's all I care about."
Copyright 2018 The Lawrence Journal-World. All rights reserved. This material may not be published, broadcast, rewritten or redistributed. We strive to uphold our values for every story published.