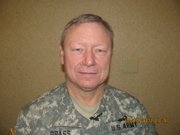 Gov. Sam Brownback and an Army lieutenant general both expressed their appreciation for the Kansas National Guard on Saturday.
"You are leading men and women in tough circumstances, and I applaud you for it," Brownback said.
Brownback and Lt. Gen. Frank Grass, deputy commander, United States Northern Command, and vice commander, U.S. Element, North American Aerospace Defense Command, spoke at the Kansas National Guard's 57th annual Joint State Conference at Holiday Inn Lawrence, 200 McDonald Drive.
Grass told the audience of the vital role that the National Guard plays in the two areas of operation he oversees at NORTHCOM and NORAD.
There, Grass said, he helps oversee civil support operations such as border security and emergency management in addition to air and missile defense, among other missions.
"We're in support of the National Guard," Grass said. "They're the first responders out there."
The National Guard also plays a big aerospace defense role in what Grass does by providing pilots and fighter jets for air support.
Grass said that his operations deal with about 1,000 air violators each year. Many turn out to be innocuous, like an instance when a pilot forgot to switch radio frequencies and was therefore out of communication.
"We'll be able to put fighters on the aircraft just in case they do something bad," Grass said, adding that those fighters mostly come from Air National Guard units.
Brownback encouraged the crowd to help meet the challenges facing the state.
"It's not fun cutting budgets, and it's not fun rebuilding institutions because you've got to work double-time," Brownback said.
He said that the state and nation would have to address its budgetary situation and other issues head-on.
"If we don't deal with it and we don't dig in, we're not going to have another great American century," he said.
Copyright 2018 The Lawrence Journal-World. All rights reserved. This material may not be published, broadcast, rewritten or redistributed. We strive to uphold our values for every story published.