Photo Gallery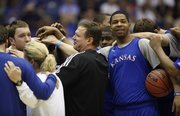 Kansas prepares for Richmond
San Antonio — As a red-shirt, Travis Releford was more than welcome to travel with Kansas University's basketball team last season on trips to UCLA, Temple, Tennessee, Colorado, Texas and Texas A&M.;
But the 6-foot-6 Kansas Citian, who practiced all year but did not play in games, declined the offer for a simple, yet somewhat serious, reason.
He was afraid to fly.
"Last year, I had a talk with coach (Bill) Self. I just let him know I've got a fear of flying," said Releford, who has successfully boarded all of KU's charter flights this season. "It just came out of nowhere because all through high school I flew overseas a few times, and those trips were 18 hours, something like that.
"When I got to college, it was different. It's the fear of it (plane) crashing, mostly. The turbulence is what gets me."
Releford tackled the problem head-on.
"Coach (Self) is the one who found a therapist at school for me. He sent me to someone to talk about it. I met with her probably twice a week," Releford said, indicating the therapist provided pointers on how best to fly the friendly skies.
"She gave me a bunch of facts. I've heard most of the important facts of flying," Releford said with a laugh, referring specifically to the statement that it's actually safer to fly than drive. "She told me some breathing exercises to relax myself on the plane.
"To tell you the truth, I'm not really over it," he added. "Right now, I have to do it. It's one of those things you wish for the best."
KU senior Tyrel Reed was initially surprised when told why Releford wasn't able to make the longest trips his red-shirt season.
"I thought he was lying because I flew with him (summer) in AAU and to various camps," Reed said. "I think we teased him a little bit. Part of being at Kansas is, we fly quite a bit to our games. Last year he didn't go to a lot of our games. At the same time, we understood why he wasn't coming."
Reed said nobody made a big deal out of Releford boarding his first flight of this season — the long flight to Las Vegas for the Vegas Invitational back in November.
"I completely forgot he was afraid," Reed said. "We didn't hold a parade or anything down the aisle. I'm glad he's gotten over it a little bit."
Bama rolling
Releford's brother, Trevor, has played well in helping his Alabama team reach the NIT semifinals in New York.
"We were at the hotel last night, and I got to watch the whole game," Travis said of Bama's win over Miami. "I think he's doing great. I always want my brother to do the best. It was very unfortunate they didn't make the (NCAA) tournament this year, but he's making the most out of the NIT now."
Trevor, a freshman point guard, has helped sophomore Travis keep his spirits up during a season in which he hasn't played much, partly because of an ankle injury.
"He told me, 'A minor setback for a major comeback,' some things like that just to keep my head," Travis said. "We talk every day about basketball and life and stuff."
Defense needed
KU coach Self said today's game against Richmond is one in which Travis Releford might be needed because of his length on the defensive end. All five Richmond starters shoot threes.
"Travis has not played much at all lately. You can't play 10 this time of year. There's no reason to unless that's your philosophy. He is kind of odd man out right now. He'll be ready if his number is called, no question," Self said.
Out and about
Self let the Jayhawks dine out and walk on the famed Riverwalk on Thursday night.
"We went and ate at the same place we ate at three years ago, and we spit in the same place in the river. No, we didn't do that, I'm joking. It's against the law to spit in the river, so we wouldn't do that," Self cracked. "It's certainly been an easy, good trip so far. It's only going to be a great trip if we play well."
Spiders beat KU before
Richmond beat KU, 69-68, on Jan. 22, 2004, in Allen Fieldhouse providing some possible incentive for the Jayhawks today.
"Coach mentioned it, but that's six years ago. That's 2004. What year is it? 2011, right?" Marcus Morris said with a smile. "We're not going to go back to the past. We're going to the future. Hopefully we can be 1-1 now."
Self said: "We had control of that game. One of my favorite players, I will not tell you which one, goes and traps the ball and leaves his man open for a three. He makes it late game. It was a good game. People forget that was an NCAA Tournament team back then, too. It was an upset, but not a major upset. They finished the season the way they played that day."
So what is the motivation tonight?
"To get to the Final Four," Marcus Morris said. "We know if we are turned all the way up it will be tough for anybody to beat us."
Collins update
Former KU guard Sherron Collins may not be headed to Lithuania to play pro ball after all. Lostlettermen.com indicated the team has been unable to reach terms with Collins and has made an offer to another unnamed guard.
T-Rob icing but OK
KU sophomore Thomas Robinson iced both his knees while meeting the media. He said he wasn't injured; it was standard treatment for sore knees this time of year.
... Marcus Morris was asked if he watched on TV as KU beat Memphis for the national title in '08 at this same dome. "Before the game, me and Kieff were like, 'Whoever wins is the school we should go to.' It's destiny for us to get back here where 'Rio hit the shot," he said of Mario Chalmers, whose three sent the Memphis game into OT.
Popular coach
Richmond coach Chris Mooney on his name being mentioned for various head-coaching vacancies. "Obviously, it's flattering. Obviously, it's one of the unfortunate parts of college basketball while we're in the midst of our most exciting time for players and coaches, that there's this other facet because jobs are becoming available. I would talk to my guys right up front about it if there was anything to talk about. But we kind of push it out and get it away from us and really concentrate on the business at hand."
Copyright 2018 The Lawrence Journal-World. All rights reserved. This material may not be published, broadcast, rewritten or redistributed. We strive to uphold our values for every story published.