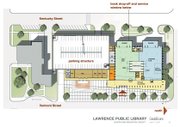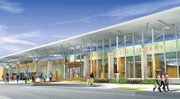 Make no mistake about it, the design for an $18 million expansion of the Lawrence Public Library is still being drawn in pencil.
The city will host another public forum to discuss design issues and possible changes for the project at 7 p.m. on Monday at the library, 707 Vt.
"We've termed this as our listening tour," said Steve Clark, one of the lead architects on the project with Lawrence-based Gould Evans.
Architects have developed a conceptual floor plan for the main level of the library — it is the same plan that was presented during last year's bond election — but the tweaking is now beginning.
Jane Huesemann, a project manager for Gould Evans, said she's already heard from several members of the public concerned about how a new parking garage would connect with the library. Currently, the plans call for people to walk through a narrow corridor to get to the Vermont Street side of the library. Huesemann said designers will look for a better altertantive.
"We recognize what we have right now is not a great solution," Huesemann said.
But Clark said simply adding more entrances to the building can become tricky because that could increase operating costs for the library by creating more security issues.
The design of the adjacent parking garage also is creating several questions from the public. Specifically, residents want to know how tall it will be, but Clark said that hasn't yet been determined. It could be four stories tall when viewed from the Kentucky Street side, but Clark said he couldn't commit to a height yet. That's because if other site changes are made that impact the footprint of the garage, the structure will either grow or shrink in height.
"But we recognize that everybody would like a shorter garage, if possible," Clark said.
Clark also said there will need to be significant discussion about what type of design the exterior of the garage will have. Residents already have expressed concern about how the garage will look from the nearby Old West Lawrence neighborhood.
"On a public project like this, there is always pressure to maximize the dollars," Clark said. "What we've budgeted for the garage is not luxurious in any way. As the pressure on the garage increases, we may have to shift some of the money in the budget around to address that. But that type of balancing act is pretty typical in these types of projects."
Huesemann said she expects to have more specific plans to present to library leaders and city commissioners in June. Final plans are expected to be completed by the end of the year.
Copyright 2018 The Lawrence Journal-World. All rights reserved. This material may not be published, broadcast, rewritten or redistributed. We strive to uphold our values for every story published.