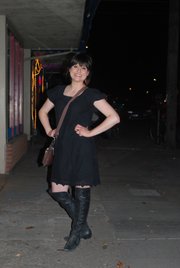 Name: Laura Lewis
Age: 30
Sign: Taurus
Occupation: Hairstylist
Relationship Status: Single
Hometown: Rio de Janeiro, Brazil/Topeka
Time in Lawrence: 10 years
What were you doing when you were scouted? Meeting some friends downtown at the Sandbar.
How would you describe your style? Classically edgy.
What are your current favorite fashion trends? Unique accessories, feminine clothing pieces, and boots.
What are your least favorite fashion trends? Outfits and clothing items that are too expected, like Ugg Boots and perfectly correlating colors.
What would you like to see more of in Lawrence? More women dressing with an old-school/chic mentality but still maintaining some sense of individuality and spice.
What would you like to see less of in Lawrence? Less everyday, commonplace wardrobes — again, I love to see uniqueness.
Do you have any fashion influences? Mostly the clothes I spot in stores like Betsey Johnson, Kate Spade, Ann Taylor, and Dillard's.
Do you have any piercings or tattoos? I have two piercings.
People Say I look like… Nothing that still seems legit when they are sober.
Tell us a secret: Never pass up an opportunity to meet someone new.
Copyright 2018 The Lawrence Journal-World. All rights reserved. This material may not be published, broadcast, rewritten or redistributed. We strive to uphold our values for every story published.