-->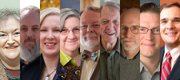 Stay informed on the race for Lawrence school board in our special elections section. Read stories, participate in live chats, watch candidate videos, vote in our straw poll and use the candidate selector to help you find out which candidates get your vote on April 5.
Candidates running for seats on the Lawrence school board understand that next year's anticipated $3 million budget hole could grower wider and deeper in the years ahead for the Lawrence school district.
And while they agree that protecting classroom instruction should be the most important consideration in making budget cuts, participants in a candidate forum Tuesday night outlined some differences in their financial approaches.
Eight of the campaign's nine active candidates participated in the forum at City Hall, an event organized by the Voter Education Coalition. Rick Ingram, a candidate who is a professor of psychology at Kansas University, did not attend.
The general election is April 5.
Marlene Merrill, a retired educator and the board's lone incumbent to seek re-election, noted that the district already had been forced to cut $12 million during the past four years. The "most important thing" in cutting another $3 million for this coming year, she said, would be "to safeguard classroom instruction."
That would leave three options for cuts, she said:
• Close schools.
• Increase class sizes.
• Make cuts to "everything else," including counselors, food service and other programs.
"We have 15 elementaries, and we cannot financially support that number of elementary schools," Merrill said. "Something else gets sacrificed if we keep all 15 of those schools."
Shannon Kimball, an attorney taking a break from work to be a stay-at-home mom, expressed frustration with the latest news out of Topeka: Legislators are pursuing plans to cut the amount of state base aid per pupil to within $10 of the rate that had been paid to districts in 1999.
"We're trying to provide a 2011 education on 1999 dollars," Kimball said. "We're going to have to look across the board, at all areas, to try to find efficiencies and protect classroom instruction as much as possible."
Ola Faucher, director of human resources and equal opportunity at KU, said that work of the Lawrence Elementary School Facility Vision Task Force "should be reviewed and mined for" money-saving opportunities and that the board should pursue a "parallel process" for examining expenses throughout the district.
Faucher noted that KU had properly focused much of its own latest round of cuts on administration, as a way to put the "educational mission of the university" above other concerns.
"That's a lesson learned for me," Faucher said.
Randy Masten, a retired U.S. Army officer, said that the task force had provided a "good start," but emphasized that the overall community would need more information so that it could provide meaningful input on budget decisions.
"We've got to have more transparency," Masten said.
Keith Diaz Moore, an associate professor of architecture, design and planning at KU, said he had benchmarked the Lawrence district's expenditures against others and found that overall administrative costs, transportation costs and food-service expenses to be "a little high."
He wants the district to form a budget advisory committee, one comprised of businesspeople willing to volunteer their expertise to help guide budget decisions.
"It's imperative to put your goals first," Diaz Moore said. "You have to protect the core academic mission. Classroom cuts have to come last."
Tyler Palmer, a senior network engineer at Lawrence Memorial Hospital, said the board first needed to "have a conversation with the community" about the district's priorities for education before making decisions about cuts.
Bill Roth, a retired engineer, agreed that planning needed to come first. Up second: Look into spending up to $9 million of the $14 million, he said, that the district has available in contingency funds.
Third: Ask every school and every division — from administration to maintenance — to submit budgets that would be cut by 2.5 percent from this year's levels.
"I'd like to see a bottom-up approach, instead of top-down direction," Roth said.
Jim Clark, staff attorney for the state's Health Care Stabilization Fund, did not indicate areas he would examine for cuts, instead noting that the district should invest in all-day kindergarten.
Copyright 2018 The Lawrence Journal-World. All rights reserved. This material may not be published, broadcast, rewritten or redistributed. We strive to uphold our values for every story published.