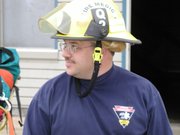 Whether Steve Smith was fighting fires in Lawrence or serving his three tours of military duty in the Middle East, he had one thing on his mind.
"He just felt like if he was doing something for somebody else that was beneficial not only to him but to the whole community," his father Robert Smith of Osage City said, "that's what he was trying to do."
And family members, friends and colleagues said this week Smith leaves behind a legacy of public service.
"He was one of the most selfless people, most giving people I've ever known in my life," said Karen Glotzbach, a fellow Lawrence Douglas County Fire and Medical engineer and paramedic.
Robert Steven "Smitty" Smith, 50, an engineer and emergency medical technician for nearly 20 years in Lawrence, died Monday at his Lecompton home from natural causes, chief Mark Bradford said.
A visitation is scheduled for 6 p.m. to 8 p.m. Thursday at Mustard Seed Church, 700 Wakarusa Drive, and funeral services will be held at 1 p.m. Friday at the church. Honor guards from the Lawrence Douglas County Fire and Medical and the U.S. Air Force will participate.
Smith was drawn first to the Air Force from 1981 to 1985, where he spent time in Japan as a radio intelligence analyst. He later enlisted in the Army's 82nd Airborne Division and went to jump school in 1985 but broke his leg twice, retired from the Army in 1988 and enlisted as an Air Force reservist.
He served in Desert Storm in 1991 and in United Arab Emirates from October 2001 to November 2002.
Smith took a break from his fire service from May 2009 to January 2010 and returned to Iraq where he managed security at an Air Force base at Kirkuk. The Air Force posthumously promoted him to the highest enlisted rank of chief master sergeant.
"He knew exactly what freedom meant," Bradford said. "We take it for granted. I think being deployed he knew what it was for men and women to sacrifice their lives so we could have freedom as we know it. And he didn't take that lightly."
Gary Smith said during his brother's last deployment to Iraq his brother worked 184 days without taking a day off, something he did often to give co-workers a chance to spend more time with their families.
In 2002, those acts of kindnesses could have cost Smith his life when, his father said, he volunteered to work Christmas Day.
While fighting a fire that night in an apartment at 213 Hanover Place in Oread neighborhood Smith fell to the basement in a hole that was burned in the floor. He held on to the hose and alternated between spraying himself down and fighting the flames.
His fellow firefighters were able to get a second breathing apparatus to him, and eventually they rescued him. He was hospitalized for smoke inhalation but otherwise he was physically fine and more worried about the firefighters who helped rescue him, Bradford said.
Gary Smith said his brother struggled with bad memories of the event but would still travel around and speak to fellow firefighters about the importance of proper training and how to act under pressure.
"He stressed these things to the people he cared about, 'I have to be an example to them,'" Gary Smith said.
Aside from his times spent joking with and mentoring to younger firefighters, friends said Steve Smith's commitment to public service helped him bounce back from tough experiences.
"That takes some courage to go back in, but he did come back," said Mark Thomas, a fellow engineer who knew Smith for 20 years.
Copyright 2018 The Lawrence Journal-World. All rights reserved. This material may not be published, broadcast, rewritten or redistributed. We strive to uphold our values for every story published.