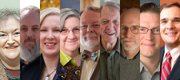 Stay informed on the race for Lawrence school board in our special elections section. Read stories, participate in live chats, watch candidate videos, vote in our straw poll and use the candidate selector to help you find out which candidates get your vote on April 5.
Randy Masten learned the importance of strategic planning not in a classroom, or from a textbook, or from one of those convention center management seminars.
No, Masten saw the significance firsthand as a U.S. Army officer on post in Iraq — as a team chief at the Combined Intelligence Center in Baghdad — and then later on staff at the Pentagon.
Planning ahead is more than a fine idea, he said. It's critical to the mission, one in which rests the fates of soldiers, civilians and nations.
"You are trying to provide a goal or an objective that is one, five, 10 years out," Masten said. "You're not focused strictly on day-to-day events, although your plans should be supportive of all the day-to-day events. What you do is maintain your plans going forward, instead of just the here and now."
Masten, now retired and pursuing a doctorate in history at Kansas University, wants to bring his strategic approach to local government as a member of the Lawrence school board.
He's one of nine people campaigning for four available seats on the board. The general election is April 5, with winners to begin their four-year terms in July.
Issues
Masten, who retired as a lieutenant colonel Jan. 1, wants to apply many of the policies, procedures and approaches picked up during his 21 years and nine months in the military to the front lines of educational decision-making.
Yes, budgets are shrinking. Sure, a task force recommends closing schools and consolidating others. True, the Lawrence school district struggles to meet rising performance standards on portions of state assessments.
Tough times, Masten said, call for logical, criteria-based decisions reached through rational approaches that include plenty of informed public participation.
Among his plans for the board, if elected:
• Improve transparency. Working intelligence in Iraq, Masten said he and his colleagues sought to declassify as much information as possible so that it could be discussed openly in hopes of gathering even more intelligence that could lead to proper decisions.
The school board, he said, should do the same.
"The data they have has to be released in a timely manner — as in before meetings, five days out from a meeting — to have what we're intending to talk about be available to the public," Masten said. "You can't get (good) public input without giving them all of the information."
• Seek advice. The district should form a budget committee to suggest and study options for saving money to accommodate declining resources from the state, while still preserving quality education in the classroom. Such volunteers could come from accounting and business backgrounds.
"That's the joy of living in Lawrence," he said. "We're one of the most educated cities of our size in the United States. There are a lot of smart people here, and a lot of them are willing to help."
• Make the case. Masten said he would advocate for legislators and Gov. Sam Brownback to "live up to their obligations" for financing education. Cuts now will mean less business growth later, Masten said: "They need to understand that the decisions they are making will affect decisions businesses will make about whether they want to come here."
• Be open, honest and willing to listen. The Lawrence Elementary School Facility Vision Task Force already has recommended closing one elementary school this year — Wakarusa Valley — and then consolidating others within three to five years from among a pool of six candidates: Cordley, Hillcrest, Kennedy, New York, Pinckney and Sunset Hill.
The board should live up to the task force's recommendations, he said, and actively seek out the public's input when deciding how or where to pursue consolidation.
"If schools have to be closed, we want a very sound decision-making process as to how those should occur," said Masten, who was involved last year with Save Our Neighborhood Schools, an organization formed to oppose school-closing efforts. "That's where the community involvement has to come in. I just want to be sure the affected neighborhoods have a voice in shaping the process."
Background
Masten and his wife, Kathi, have a 9-year-old son, Kanak, who is in third grade at Cordley. The Mastens chose to live in Lawrence after they'd come to KU to study: Masten received a masters in Russian and Eastern European Studies, and Kathi received a degree in art history.
Lawrence offered them a comfortable town with a strong sense of community, something that had not always been present at other stops during Masten's military career: abroad in Panama, Germany and Poland, or stateside in Texas, California, Alabama, Georgia or Washington, D.C.
Masten taught strategic planning at the Command and General Staff College at Fort Leavenworth before retiring, allowing them to stay in Lawrence.
Now he wants to plan ahead, with schools leading the way both now and well into the future.
"So much is spent on the near term, but we need to know where we want to be in 20 years," Masten said. "We want to have the best schools in the state and have our children ready for the colleges and businesses that will need them 20 years from now."
Copyright 2017 The Lawrence Journal-World. All rights reserved. This material may not be published, broadcast, rewritten or redistributed. We strive to uphold our values for every story published.