Swallowing fire. Sawing bodies into pieces. Escaping from a straitjacket while hanging upside down... these will be just a few of the amazing feats to be performed Saturday as the International Brotherhood of Magicians makes an appearance in Lawrence for a show to benefit the Lawrence Arts Center.
"Every year we partner with a charity," says club president and Kansas City's 2010 Magician of the Year, Steve Steiner, who will perform during the show. "The past two years we have helped raise funds for the historic Farris Theater in Richmond, Missouri, but this year we wanted to do something in Kansas, so we called Gene."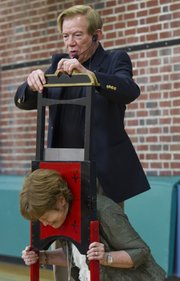 Masters of Magic
What: Performances by the International Brotherhood of Magicians Kansas City Ring
When: 2 p.m. and 7 p.m. Saturday
Where: Lawrence Arts Center, 940 N.H.
Tickets: $8 for children 14 and under, $10 for adults, all in advance. Call 843-2787 or visit www.lawrenceartscenter.org. Seating is limited.
Benefits: Lawrence Arts Center scholarship program for children and teens
That would be Lawrence resident Gene Kean, aka "Lawrence's King of Magic" and known in an earlier life as "Claudini."
Kean, who will serve as Master of Ceremonies, says, "The shows benefit programs for children and youth. With money for arts programs facing budget cuts in the state, we thought this was good timing."
Kean sees a strong connection between magic and the arts and sciences.
"Magic is an art form," he says. "But my interest in it grew out of my love of science and history. At the beginning of the world, everything was magic. When lightning flashed, that was magic. ... So when I read about history and the earliest cavemen, I realized it was those who tried to understand and describe the magic who became the thinkers of the human race. The astrologers became the astronomers."
Kean has been performing since he was 12 years old.
"Our sixth-grade teacher had a talent show, and instead of playing the piano, I decided to do a magic show," he says. "I picked coins out of the air and made some crayons disappear. The kids loved it, and I started getting phone calls from clubs and other organizations."
That was the beginning of a passion that has lasted more than 60 years. Kean's act included sleight of hand, levitations and escaping from a milk can, a trick made famous by Houdini. After graduating from high school, he traveled with the "TV All-Star Review," performing at state fairs with other entertainers including Eddie Peabody, a highly regarded banjo player of the time.
His father convinced him that a college education was in his best interest, and Kean graduated from KU with a degree in journalism. After working as an army engineer, a helicopter pilot and a college administrator at Baker University, he went to work for Allen Press and stayed for 23 years until his retirement several years ago.
Entertaining children and families is important for Kean because, like many others who share his passion, his love of magic and performance began in his childhood.
Such was the case for Lawrence resident, attorney and ventriloquist Bonita Yoder, who bought her first magic kit when she was a child. She later took up ventriloquism and became proficient enough to support herself through law school by performing at conventions and corporate events. She will share the stage with "Flip" the Penguin.
Also taking the stage Saturday will be Steiner, who also discovered magic as a youngster.
"I slowly built an act and did shows at churches and birthday parties," he says. "I did a few shows when I went to college, but gradually the tricks all went into a box."
Only after becoming mayor of Blue Springs, Mo., in 2004, did magic reappear in his life.
"I was asked to say a few words to a group of students," Steiner says, "and I got to thinking about those magic tricks and pulled out three or four."
After that experience, he realized he still had the performance bug. Putting together his act this time around was a little easier for Steiner, who used to rely on books and catalogs for material.
"Youtube has changed everything," says Steiner, who has used the online resource. But despite the availability of the Internet, Steiner recommends that anyone interested in pursuing magic find a mentor.
"This is why clubs such as the International Brotherhood are so important," he says. "We get together once a month and learn from each other."
Other members of the International Brotherhood performing Saturday include Rod Sipe, "America's Premier Fire-eating Magician"; Duane Fields and his live birds, escape artist Matt Gurley, light magician Al Sawyer and Jordan Byrd, the youngest performer in the group, and who graduate from high school later this spring.
"This will be a fun afternoon an evening of family entertainment," Steiner says, "featuring some of the best magical entertainers performing on the same stage."
Copyright 2018 The Lawrence Journal-World. All rights reserved. This material may not be published, broadcast, rewritten or redistributed. We strive to uphold our values for every story published.